I can't believe December is over – another year done and dusted! This post is a bit late, but I've had so many other posts that I've wanted to upload so this one got pushed back a bit. I didn't read as much as I wanted to last month since I was so busy with Christmas, family and just enjoying the sunshine. It didn't bother me too much though because I still read seven books, and I not only reached my Goodreads reading goal of 150 books, but I reached the 153 mark!
Comment below what the last book you read in 2016 was!
Lyrebird – Cecelia Ahern
I was sent a copy of Lyrebird by Harper Collins in exchange for a review, which you can check out below. I was a little bit dissapointed with this book because I have read two of Ahern's books before (Love, Rosie and Flawed) and I absolutely loved both of them, so I had high expectations. Unfortunately, I found the story kind of boring and felt like I had to finish the book because I needed to write a review. It is adult chic lit which is different to the usual YA that I read, but I usually like chic lit still (and I loved Love, Rosie). It wasn't bad, it was just boring.
3 Stars.
Review:  https://alwaysandforeverreading.wordpress.com/2016/12/11/lyrebird-cecelia-ahern/

Songs About A Girl – Chris Russel
This book put me back in the reading mood and I was so grateful. I've talked about it a few times (and it even made it in my Top 16 of 2016) but it was such a fun and creative read. It reminded me a little bit of a fan fiction since the main character falls for two members of a band, but I liked it and it was perfect for the mood that I was in. I don't usually like love triangles, but I didn't mind it in this instance and I think Russel did a good job at it. I'm Team Gabriel <3.
5 Stars.
Looking For Alibrandi – Melina Marchetta
Another book that made it on my Top 16 of 2016, and this is probably my new favourite book of all time. It counted as my classic for the month of December – it's an Australian modern classic that most kids have to read or watch the film in high school. My class never did, so when I watched the movie a few months ago, I fell in love with it straight away. I read the book in less than a day and I loved it even more. I relate to Josie so much, and her Italian family reminds me so much of my own. I already want to read it gain!
5 Stars.
My Best Friend Is A Goddess – Tara Eglington
Thanks to Harper Collins for sending me a copy of the book to review, which you can check out below. This book follows the story of two teenage girls in high school, and although I feel like younger readers may appreciate the story a lot more, I found it a fun and lighthearted read which can be good sometimes. I liked how the story was told between the perspectives of the two girls, and we got post present and past stories and thoughts from both of them. I liked the realistic and unpredictable end, and even though romance was a big part of the book, it was more about the friendship between the two girls.
4.5 Stars
Review: https://alwaysandforeverreading.wordpress.com/2016/12/18/my-best-friend-is-a-goddess-tara-eglington/
My True Love Gave To Me – Stephanie Perkins
This is an anthology or series of short stories with the theme focusing around the time of Christmas and New Year. I read this about a week before Christmas which was good because it really got me in the festive spirit despite all the stories being set in winter and snow, when I was reading the book in 40 degree celcius heat (I'm not even joking)! There were some stories that I absolutely loved, and a few that I just skimmed through because they didn't really interest me, but overall I liked the book and I just love Christmas in general.
4.5 Stars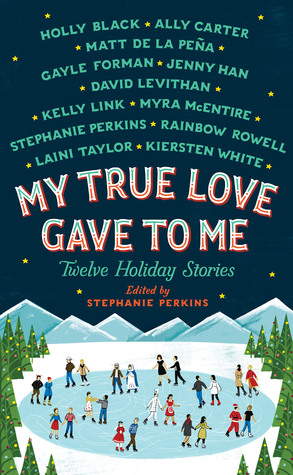 The Song From Somewhere Else – A.F. Harrold
Thanks to Bloomsbury for sending me a copy to review, which you can check out below. This book is directed to a younger audience and I think it's classified as a children's book – it's short and contains illustrations, but this only made me love the story more. The pictures definitely added character to the book and helped me visualise the story. Although it's a book for younger readers, it wasn't childish, despite the main characters being young children. It was dark and scary, yet beautiful at the same time. I was left with goosebumps at the end.
4.5 Stars
Review: https://alwaysandforeverreading.wordpress.com/2016/12/31/the-song-from-somewhere-else-a-f-harrold/
A Quiet Kind Of Thunder – Sara Barnard
This was sent to me by Pan Macmillan to review as part of their official blog tour which you can check out below. This is such a touching and beautifully written book and I am so glad that I read it. Both the characters are so diverse – Rhys is deaf and Steffi is a selective mute and has suffers from anxiety. What I love is that these two completely different characters come together and they really do bring the best out of each other. I have a lot more to say, but you can check it out in my review.
5 Stars
Review: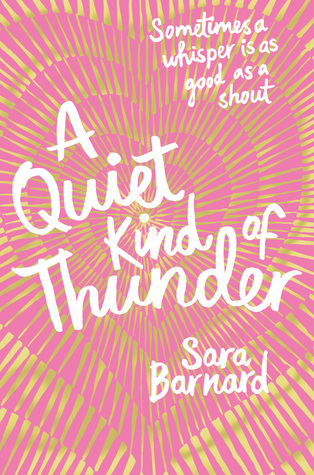 And that's my last reading wrap up of 2016! Comment below how many books you read in December and if you managed to reach your reading goals!