I'm not one to ever have a big TBR pile, but I feel like recently I've been receiving more books from publishers and using my Christmas book vouchers to buy new books. My TBR is currently at seventeen books which I'm actually okay with. I feel like having several books as options to read is a good think – but I wouldn't want it to get too big!
So today I'm going to list the books that are on my TBR. Comment below if you've read any of these books and what books are on your TBR!
*Review book: stay tuned for a spoiler free review to come soon!
Before You Forget – Julia Lawrinson
Year Twelve is not off to a good start for Amelia. Art is her world, but her art teacher hates everything she does; her best friend has stopped talking to her; her mother and father may as well be living in separate houses; and her father is slowly forgetting everything. Even Amelia.
*Review book
Zayn – Zayn Malik
ZAYN opens up with this collection of thoughts, inspiration, and never-before-seen personal photographs. After five years of massive success with One Direction, ZAYN launched his career as a solo artist with Mind of Mine, becoming one of the most successful artists in the world. Now, for the first time ever, ZAYN is going to tell and show all in this intimate and raw scrapbook of his life. Never-before-released photos give readers insight to ZAYN, no-holds-barred. Gorgeously designed with hundreds of full-color photographs and Zayn's notes, drawings, song lyrics, and personal stories, the book captures Zayn's most private moments and his candid feelings on fame, success, music, and life. The next chapter of ZAYN'S evolution into global superstar, told by the artist who is living it
Girl In Pieces – Kathleen Glasgow
Charlotte Davis is in pieces. At eighteen she's already lost more than most people lose in a lifetime. But she's learned how to forget it. The thick glass of a mason jar cuts deep and the pain washes out the sorrow until there is nothing but calm. You don't have to think about your father and the bridge. Your best friend who is gone forever. Or your mother who has nothing left to give you.

Every new scar hardens Charlie's heart just a little more, yet it still hurts so much. It hurts enough to not care anymore, which is sometimes what has to happen to find your way back from the edge.
Quiet – Susan Cain
For far too long, those who are naturally quiet, serious or sensitive have been overlooked. The loudest have taken over – even if they have nothing to say.
It's time for everyone to listen. It's time to harness the power of introverts.
It's time for Quiet.
The Edge Of Everything – Jeff Giles
It's been a shattering year for seventeen-year-old Zoe, who's still reeling from her father's shockingly sudden death in a caving accident and her neighbors' mysterious disappearance from their own home. Then on a terrifying sub-zero, blizzardy night in Montana, she and her brother are brutally attacked in a cabin in the woods–only to be rescued by a mysterious bounty hunter they call X.
X is no ordinary bounty hunter. He is from a hell called the Lowlands, sent to claim the soul of Zoe's evil attacker and others like him. Forbidden to reveal himself to anyone other than his victims, X casts aside the Lowlands' rules for Zoe. As X and Zoe learn more about their different worlds, they begin to question the past, their fate, and their future. But escaping the Lowlands and the ties that bind X might mean the ultimate sacrifice for both of them.
*Review book
Finding Audrey – Sophie Kinsella
Audrey can't leave the house. she can't even take off her dark glasses inside the house.
Then her brother's friend Linus stumbles into her life. With his friendly, orange-slice smile and his funny notes, he starts to entice Audrey out again – well, Starbucks is a start. And with Linus at her side, Audrey feels like she can do the things she'd thought were too scary. Suddenly, finding her way back to the real world seems achievable.
My Sister's Keeper – Jodi Picoult
Anna is not sick, but she might as well be. By age thirteen, she has undergone countless surgeries, transfusions and shots so that her older sister, Kate, can somehow fight the leukemia that has plagued her since childhood. Anna was conceived as a bone marrow match for Kate, a life and a role that she has never questioned until now. Like most teenagers, Anna is beginning to ask herself who she truly is. But unlike most teenagers, she has always been defined in terms of her sister – and so Anna makes a decision that for most would be unthinkable, a decision that will tear her family apart and perhaps have fatal consequences for the sister she loves.
The Chemist – Stephanie Meyer
She used to work for the U.S. government, but very few people ever knew that. An expert in her field, she was one of the darkest secrets of an agency so clandestine it doesn't even have a name. And when they decided she was a liability, they came for her without warning.
Now, she rarely stays in the same place or uses the same name for long. They've killed the only other person she trusted, but something she knows still poses a threat. They want her dead, and soon.
When her former handler offers her a way out, she realizes it's her only chance to erase the giant target on her back. But it means taking one last job for her ex-employers. To her horror, the information she acquires only makes her situation more dangerous.
Resolving to meet the threat head-on, she prepares for the toughest fight of her life but finds herself falling for a man who can only complicate her likelihood of survival. As she sees her choices being rapidly whittled down, she must apply her unique talents in ways she never dreamed of.
*Review book
Clockwork Angel – Cassandra Clare
The year is 1878. Tessa Gray descends into London's dark supernatural underworld in search of her missing brother. She soon discovers that her only allies are the demon-slaying Shadowhunters—including Will and Jem, the mysterious boys she is attracted to. Soon they find themselves up against the Pandemonium Club, a secret organization of vampires, demons, warlocks, and humans. Equipped with a magical army of unstoppable clockwork creatures, the Club is out to rule the British Empire, and only Tessa and her allies can stop them…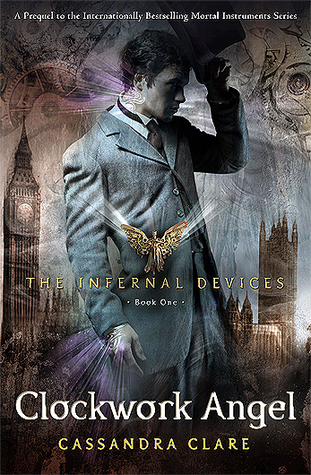 Clockwork Prince – Cassandra Clare
In the magical underworld of Victorian London, Tessa Gray has at last found safety with the Shadowhunters. But that safety proves fleeting when rogue forces in the Clave plot to see her protector, Charlotte, replaced as head of the Institute. If Charlotte loses her position, Tessa will be out on the street—and easy prey for the mysterious Magister, who wants to use Tessa's powers for his own dark ends.
With the help of the handsome, self-destructive Will and the fiercely devoted Jem, Tessa discovers that the Magister's war on the Shadowhunters is deeply personal. He blames them for a long-ago tragedy that shattered his life. To unravel the secrets of the past, the trio journeys from mist-shrouded Yorkshire to a manor house that holds untold horrors, from the slums of London to an enchanted ballroom where Tessa discovers that the truth of her parentage is more sinister than she had imagined. When they encounter a clockwork demon bearing a warning for Will, they realize that the Magister himself knows their every move—and that one of their own has betrayed them.
Clockwork Princess – Cassandra Clare
A net of shadows begins to tighten around the Shadowhunters of the London Institute. Mortmain plans to use his Infernal Devices, an army of pitiless automatons, to destroy the Shadowhunters. He needs only one last item to complete his plan: he needs Tessa Gray.
Charlotte Branwell, head of the London Institute, is desperate to find Mortmain before he strikes. But when Mortmain abducts Tessa, the boys who lay equal claim to her heart, Jem and Will, will do anything to save her. For though Tessa and Jem are now engaged, Will is as much in love with her as ever.
As those who love Tessa rally to rescue her from Mortmain's clutches, Tessa realizes that the only person who can save her is herself. But can a single girl, even one who can command the power of angels, face down an entire army?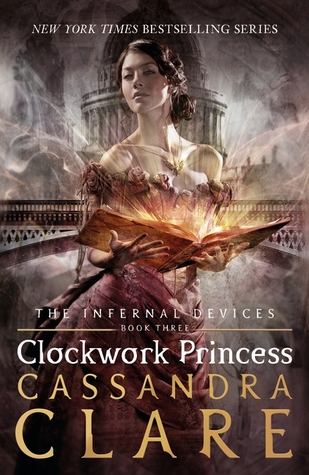 A Shadow Bright And Burning – Jessica Cluess
Henrietta Howel can burst into flames. When she is brought to London to train with Her Majesty's sorcerers, she meets her fellow sorcerer trainees, young men eager to test her powers and her heart. One will challenge her. One will fight for her. One will betray her. As Henrietta discovers the secrets hiding behind the glamour of sorcerer life, she begins to doubt that she's the true prophesied one. With battle looming, how much will she risk to save the city–and the one she loves?
*Review book
This Song Will Save Your Life – Leila Sales
Making friends has never been Elise Dembowski's strong suit. All throughout her life, she's been the butt of every joke and the outsider in every conversation. When a final attempt at popularity fails, Elise nearly gives up. Then she stumbles upon a warehouse party where she meets Vicky, a girl in a band who accepts her; Char, a cute, yet mysterious disc jockey; Pippa, a carefree spirit from England; and most importantly, a love for DJing.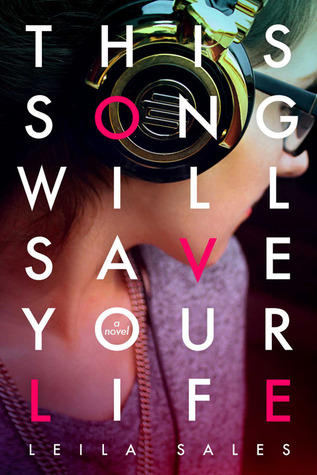 Love Letters To The Dead – Ava Dellaira
It begins as an assignment for English class: write a letter to a dead person – any dead person. Laurel chooses Kurt Cobain – he died young, and so did Laurel's sister May – so maybe he'll understand a bit of what Laurel is going through. Soon Laurel is writing letters to lots of dead people – Janis Joplin, Heath Ledger, River Phoenix, Amelia Earhart… it's like she can't stop. And she'd certainly never dream of handing them in to her teacher. She writes about what it's like going to a new high school, meeting new friends, falling in love for the first time – and how her family has shattered since May died.
But much as Laurel might find writing the letters cathartic, she can't keep real life out forever. The ghosts of her past won't be contained between the lines of a page, and she will have to come to terms with growing up, the agony of losing a beloved sister, and the realisation that only you can shape your destiny
Amy And Roger's Epic Detour – Morgan Matson
Amy Curry is not looking forward to her summer. Her mother decided to move across the country and now it's Amy's responsibility to get their car from California to Connecticut. The only problem is, since her father died in a car accident, she isn't ready to get behind the wheel. Enter Roger. An old family friend, he also has to make the cross-country trip – and has plenty of baggage of his own. The road home may be unfamiliar – especially with their friendship venturing into uncharted territory – but together, Amy and Roger will figure out how to map their way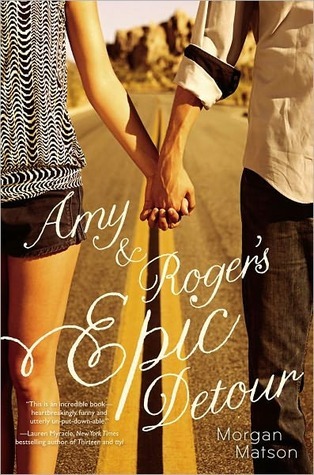 Water For Elephants – Sara Gruen
When Jacob Jankowski, recently orphaned and suddenly adrift, jumps onto a passing train, he enters a world of freaks, swindlers and misfits in a second-rate circus struggling to survive.

A veterinary student who almost earned his degree, Jacob is put in charge of caring for the circus menagerie. It is there that Jacob meets Marlena, the beautiful equestrienne who is married to August, a charismatic but violently unpredictable animal trainer. Jacob also meets Rosie, an elephant who seems unmanageable until he discovers an unusual way to reach her.
Paradise City – CJ Duggan
When her parents decide a change will be good for her, seventeen-year-old Lexie Atkinson never expected they'd send her all the way to Paradise City. Coming from a predictable life of home schooling on a rural Australian property, she's sure that Paradise will be amazing. But when she's thrust into a public school without a friendly face in sight, and forced to share a room with her insipid, hateful cousin Amanda, Lexie's not so sure.

Hanging out with the self-proclaimed beach bums of the city, sneaking out, late night parties and parking with boys are all things Lexie's never experienced, but all that's about to change. It's new, terrifying . . . and exciting. But when she meets Luke Ballantine, the sexy bad-boy leader of the group, Lexie can't help but wonder if Luke is going to be good for her . . . or very, very bad?