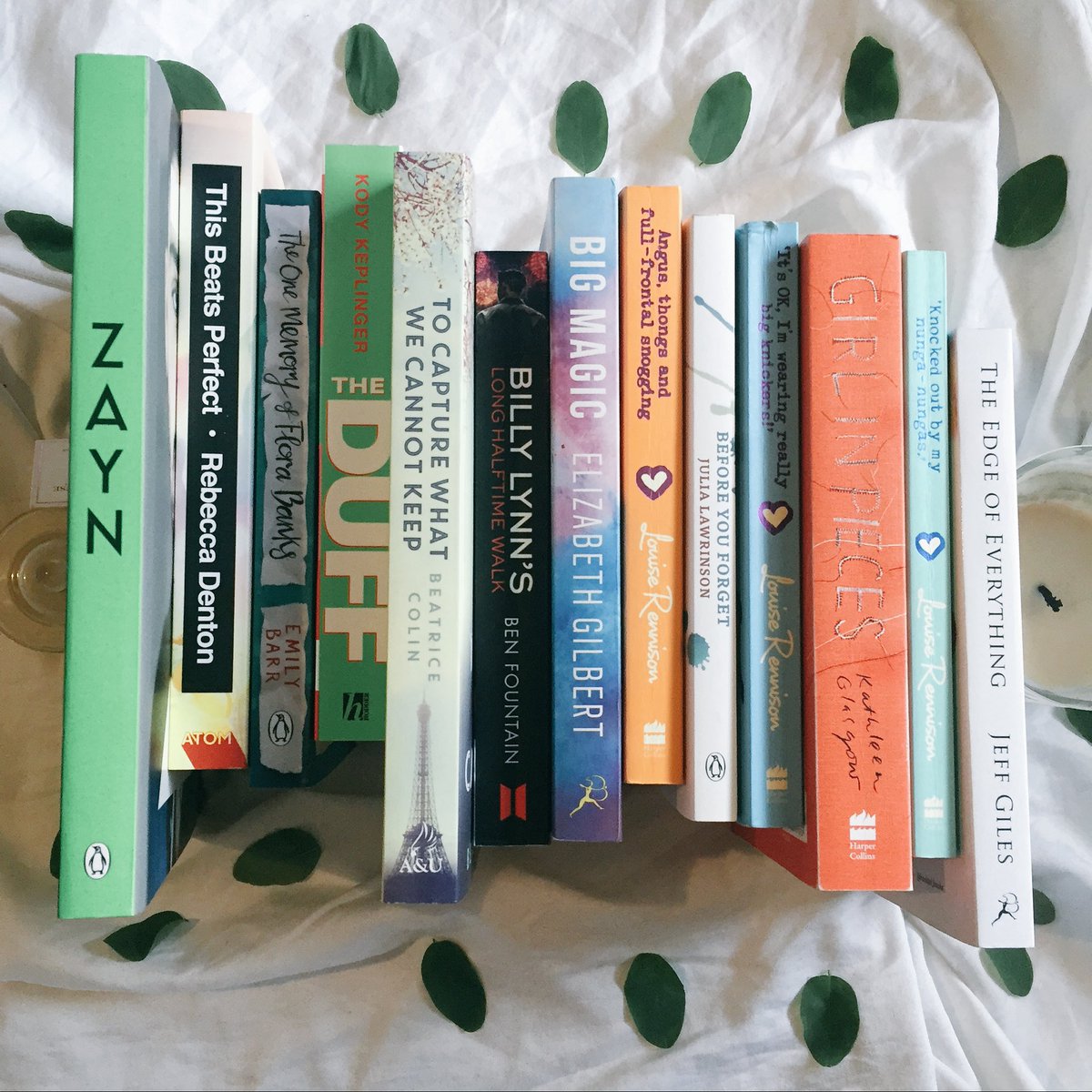 I can't believe that the first month of 2017 is already over! Near the end of 2016, I was in a bit of a slump. I was still reading a quite a few books a month, but I just wasn't in the reading mood and I felt like I was forcing myself to read most of the time. Surprisingly, a few days into the new year, I suddenly wanted to read every single book on my TBR (good luck!) and I was back in the reading mood again.
My goal this year is to read 100 books (50 less than 2016), which means I need to read 8 books a month which is definitely doable. In January, I managed to read 13 books which I'm really happy with. So without further ado, here are the books I read this month.
This Beats Perfect – Rebecca Denton
Amelie Ayres has impeccable taste in music. Bowie. Bush. Bob. So when she finds herself backstage at The Keep's only UK gig she expects to hate it; after all they are world's most tragic band. In fact she feels a grudging respect – not (obviously) for their music, but for the work that goes in to making them megastars. And when lead singer, 'Maxx', is not dressed up as a cross between Elvis and a My Little Pony, he is actually rather normal, talented and has creative struggles not too dissimilar to her own.
But the next morning she wakes up rolls over and discovers a million new @'s on social media. Overnight a photo of her backstage has made her a subject of global speculation. Suddenly the world needs to know #Who'sThatGirl? – but for all the wrong reasons.
All Amelie wants is to play her music. She's got the guitar, the songs, the soul and, in the safety of her bedroom, she's got the voice. But when it comes to getting up on stage, she struggles with self-doubt.
If you love music, and reading books about music, then you will absolutely love this book… and I did. I've read a couple books that focus around this theme – girl falling in love with a guy from a band that she's never been interested in before. I know it sounds cliche and kind of like a fan fiction, but it was so fun to read.
4 stars.
Review: will be out this Sunday (5th Feb)
The One Memory of Flora Banks – Emily Barr
Seventeen-year-old Flora Banks has no short-term memory. Her mind resets itself several times a day, and has since the age of ten, when the tumor that was removed from Flora's brain took with it her ability to make new memories. That is, until she kisses Drake, her best friend's boyfriend, the night before he leaves town. Miraculously, this one memory breaks through Flora's fractured mind, and sticks. Flora is convinced that Drake is responsible for restoring her memory and making her whole again. So when an encouraging email from Drake suggests she meet him on the other side of the world, Flora knows with certainty that this is the first step toward reclaiming her life.
This was the book that really got me back into reading again – and I managed to finish it within a day. It is different to anything that I've read before, and despite what she is going through, Flora is such a unique and fun character to read about. She goes on so many adventures in the book and feels so many different emotions, and I felt all of it with her. And can we talk about the ending… I had tears in my eyes!
5 Stars.
Review: https://alwaysandforeverreading.wordpress.com/2017/01/15/the-one-memory-of-flora-banks-emily-barr/
The Duff – Kody
Seventeen-year-old Bianca Piper is cynical and loyal, and she doesn't think she's the prettiest of her friends by a long shot. She's also way too smart to fall for the charms of man-slut and slimy school hottie Wesley Rush. In fact, Bianca hates him. And when he nicknames her "Duffy," she throws her Coke in his face.
But things aren't so great at home right now. Desperate for a distraction, Bianca ends up kissing Wesley. And likes it. Eager for escape, she throws herself into a closeted enemies-with-benefits relationship with Wesley.
Until it all goes horribly awry. It turns out that Wesley isn't such a bad listener, and his life is pretty screwed up, too. Suddenly Bianca realizes with absolute horror that she's falling for the guy she thought she hated more than anyone.
I watched this movie when it first came out, and I've seen it countless amounts of times since because I love it so much. I heard that the book was completely different, but I thought I'd check it out anyway. It's true – the book and movie are almost completely different, and if I didn't know any better, I would think they're not even meant to be the same story. But I didn't really mind. I still really loved the book – I laughed, I fell in love with the characters, and I became invested in the story line.
4.5 stars.
To Capture What We Cannot Keep – Beatrice Colin
In February 1887, Caitriona Wallace and Émile Nouguier meet in a hot air balloon, floating high above Paris–a moment of pure possibility. But back on firm ground, their vastly different social strata become clear. Cait is a widow who because of her precarious financial situation is forced to chaperone two wealthy Scottish charges. Émile is expected to take on the bourgeois stability of his family's business and choose a suitable wife. As the Eiffel Tower rises, a marvel of steel and air and light, the subject of extreme controversy and a symbol of the future, Cait and Émile must decide what their love is worth.
From the synopsis, I thought I was going to love this book. I love Paris and I was excited to read something set during this time in history, specifically a romance story. But the book fell short for me. I don't have a lot to say about it that I haven't already said in my review which you can check out below.
3 stars.
Review: https://alwaysandforeverreading.wordpress.com/2017/01/22/to-capture-what-we-cannot-keep-beatrice-colin/
Billy Lynn's Long Halftime Walk – Ben Fountain
Billy Lynn's Long Half-Time Walk is a razor-sharp satire set in Texas during America's war in Iraq. It explores the gaping national disconnect between the war at home and the war abroad.
Ben Fountain's remarkable debut novel follows the surviving members of the heroic Bravo Squad through one exhausting stop in their media-intensive "Victory Tour" at Texas Stadium, football mecca of the Dallas Cowboys, their fans, promoters, and cheerleaders.
I saw the trailer to the movie first and it looked incredible, so I decided to pick the book up first. Although the book wasn't bad, it just wasn't nearly as good as I anticipated. The plot was a bit boring and I felt myself losing interest. However, it was touching to read about Billy's day at home with his family and hearing his thoughts. Hopefully, I can watch the movie soon because I feel like I might enjoy it more.
4 stars.
Big Magic – Elizabeth Gilbert
Readers of all ages and walks of life have drawn inspiration and empowerment from Elizabeth Gilbert's books for years. Now this beloved author digs deep into her own generative process to share her wisdom and unique perspective about creativity. With profound empathy and radiant generosity, she offers potent insights into the mysterious nature of inspiration. She asks us to embrace our curiosity and let go of needless suffering. She shows us how to tackle what we most love, and how to face down what we most fear. She discusses the attitudes, approaches, and habits we need in order to live our most creative lives. Balancing between soulful spirituality and cheerful pragmatism, Gilbert encourages us to uncover the "strange jewels" that are hidden within each of us. Whether we are looking to write a book, make art, find new ways to address challenges in our work,  embark on a dream long deferred, or simply infuse our everyday lives with more mindfulness and passion, Big Magic cracks open a world of wonder and joy.
My mum won this book in a contest a couple years ago, and even though the cover always intrigued me, neither of us have ever read it. A few Aussie Booktubers that I watch (The Bed Time Book Club) were reading this for the book of the month, so  decided to join them and finally give the book a shot. Although I felt a little inspired to be more creative after reading it, I felt a bit bored at times. Some of the short essays I skimmed over because I found no interest in them. However, things picked up closer to the end which left me wanting to write more and I started working on a short story.
3 stars.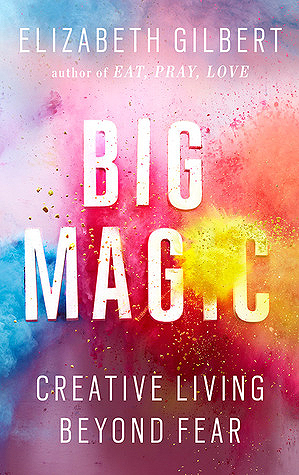 Angus, Thongs and Full Frontal Snogging – Louise Rennison
Angus: My mixed-breed cat, half domestic tabby, half Scottish wildcat. The size of a small Labrador, only mad. Likes to stalk Mr. and Mrs. Next Door's poodle. I used to drag him around on a lead, but, as I explained to Mrs. Next Door, he ate it.
Thongs: Stupid underwear worn by old Swotty Knickers, Lindsay. What's the point of them, anyway? They just go up your bum, as far as I can tell.
Full-Frontal Snogging: Kissing with the trimmings, lip to lip, open mouth, tongues…everything (apart from dribble, which is never acceptable). As taught to me by a professional snogger.
I decided that I want to start rereading this series again over the next couple of months, and I'm so glad that I did. I forgot just how much I love this series – it's fun, hilarious, and over dramatic. Something that I have realised from rereading this is that Georgia is a little bit annoying and a brat, but I think that only adds to the entertainment of the story.
5 stars.
Before You Forget – Julia Lawrinson
Year Twelve is not off to a good start for Amelia. Art is her world, but her art teacher hates everything she does; her best friend has stopped talking to her; her mother and father may as well be living in separate houses; and her father is slowly forgetting everything. Even Amelia.
This was such a touching and emotional book. There were so many aspects to it, and I really felt like I was going through everything with Amelia. I talk more about it in my review, but it was an amazing read and I highly recommend everyone read it.
4.5 Stars.
Review: https://alwaysandforeverreading.wordpress.com/2017/01/29/before-you-forget-julia-lawrinson/
It's OK, I'm Wearing Really Big Knickers – Louise Rennison
Brilliantly funny, teenage angst author Louise Rennison's second book about the confessions of crazy but lovable Georgia Nicolson. Louise is an international bestselling author and her books can't fail to make you laugh out loud.
What is the matter with my life? Why is it so deeply unfab?
• It's a day and a half now since I snogged the Sex God…
• I think I have snog withdrawal. My lips keep puckering up…
• I tried snogging the back of my hand, but it's no good…
• I wonder if the Sex God is having second thoughts about me because of my nose…
• I have a HUGE nose that means I have to live for ever in the Ugly Home
I continued rereading this series – I think I like this one better than the first one because I feel that more actually happens throughout the story. I finished it in one sitting.
5 stars.
Zayn – Zayn Malik
ZAYN opens up with this collection of thoughts, inspiration, and never-before-seen personal photographs. After five years of massive success with One Direction, ZAYN launched his career as a solo artist with Mind of Mine, becoming one of the most successful artists in the world. Now, for the first time ever, ZAYN is going to tell and show all in this intimate and raw scrapbook of his life. Never-before-released photos give readers insight to ZAYN, no-holds-barred. Gorgeously designed with hundreds of full-color photographs and Zayn's notes, drawings, song lyrics, and personal stories, the book captures Zayn's most private moments and his candid feelings on fame, success, music, and life. The next chapter of ZAYN'S evolution into global superstar, told by the artist who is living it.
Being a fan of 1D and Zayn, I've wanted to read this for a while. Although it isn't the best autobiography that I've read, I thought it was good to read Zayn's perspective on what happened when he first left the band and decided to pursue a solo career. The media definitely twisted a lot of the things that happened during that time, so I was able to learn a lot about Zayn and hear his side of the story (the real story). I really loved the song notes that he included about each song on his album.
4 stars.
Girl In Pieces – Kathleen Gasglow
Charlotte Davis is in pieces. At seventeen she's already lost more than most people lose in a lifetime. But she's learned how to forget. The broken glass washes away the sorrow until there is nothing but calm. You don't have to think about your father and the river. Your best friend, who is gone forever. Or your mother, who has nothing left to give you.
Every new scar hardens Charlie's heart just a little more, yet it still hurts so much. It hurts enough to not care anymore, which is sometimes what has to happen before you can find your way back from the edge.
Although this is a chunky book with 400 pages, I managed to finish it within a day because I literally couldn't put it down. It made me cry, gave me goose bumps, and left me hopeful. It is one of the most beautifully written books I've ever read and has touched me in a way that no other book ever has. I finished it and I couldn't stop thinking about it, or Charlie, for days. Even though I loved Mikey and the part that he played in this book, I loved how Gasglow didn't romanticise mental health and self harm – Charlie proved that she didn't need a guy to fix her (even though I really love Mikey!).
5 stars (and more if I could!).
Knocked Out By My Nunga-Nunga's – Louise Rennison
Georgia Nicolson is now the girlfriend of the Sex God (aka Robbie), and things are wonderful. Except her loony parents are dragging her off to Och Aye land (aka Scotland), and the Sex God's band's chance at a record contract has left her something of a "pop widow."
Then up rears temptation in the form of old flame Dave the Laugh. Is Georgia about to become a shameless vixen?
I continued with my rereading of this series.
5 stars.
The Edge of Everything – Jeff Giles
It's been a shattering year for seventeen-year-old Zoe, who's still reeling from her father's shockingly sudden death in a caving accident and her neighbors' mysterious disappearance from their own home. Then on a terrifying sub-zero, blizzardy night in Montana, she and her brother are brutally attacked in a cabin in the woods–only to be rescued by a mysterious bounty hunter they call X.
X is no ordinary bounty hunter. He is from a hell called the Lowlands, sent to claim the soul of Zoe's evil attacker and others like him. Forbidden to reveal himself to anyone other than his victims, X casts aside the Lowlands' rules for Zoe. As X and Zoe learn more about their different worlds, they begin to question the past, their fate, and their future. But escaping the Lowlands and the ties that bind X might mean the ultimate sacrifice for both of them.
I did not expect to enjoy this book as much as I did. Bloomsbury sent it to me for review at the beginning of December and I have been putting it off for so long because I wasn't in the mood for fantasy. Despite it only being released at the end of January, if I knew how good it was going to be, I would have read it sooner. There was the perfect combination of romance and fantasy, and I can't wait for the next book to be released.
4 Stars.
Review: will be live on Feb 12th
So those were the thirteen books I read this month, and I would say it's a good start to the year. Be sure to comment below what books you read this month!