No one likes being in a reading slump, and I know that I've had my fare share of slumps or not being in the mood to read. So I've come up with a few recommendations of books to read to try and get you out of that slump. I've tried to come up with a variety of different genres and reasons as to why each book is good to read, so I hope that at least one of these books can help you. Enjoy!
Girl Online – Zoe Sugg
I had no idea GirlOnline would take off the way it has – I can't believe I now have 5432 followers, thanks so much! – and the thought of opening up to you all about this is terrifying, but here goes…
Penny has a secret.
Under the alias GirlOnline, she blogs about school dramas, boys, her mad, whirlwind family – and the panic attacks she's suffered from lately. When things go from bad to worse, her family whisks her away to New York, where she meets the gorgeous, guitar-strumming Noah. Suddenly Penny is falling in love – and capturing every moment of it on her blog.
But Noah has a secret too. One that threatens to ruin Penny's cover – and her closest friendship – forever.
I know that a lot of people are iffy this book for a lot of reasons, and you might think that it's a little childish for you. However, I found all three books from the series a fun and enjoyable, and quick and easy read, and I think this is always helpful if you are in a reading slump. At the beginning of 2016 after reading 'Me Before You',  I couldn't bare the thought of moving on to reading another book because it felt like my emotions had been ripped out of me. 'Girl Online' was on my TBR so I thought I'd pick it up, and the light hearted and fun story line really helped me get over the tragedy from the previous book I read.
The Devil You Know – Trish Doller
Eighteen-year-old Arcadia wants adventure. Living in a tiny Florida town with her dad and four-year-old brother, Cadie spends most of her time working, going to school, and taking care of her family. So when she meets two handsome cousins at a campfire party, she finally has a chance for fun. They invite her and friend to join them on a road trip, and it's just the risk she's been craving-the opportunity to escape. But what starts out as a fun, sexy journey quickly becomes dangerous when she discovers that one of them is not at all who he claims to be. One of them has deadly intentions.
This book is a YA mystery/thriller which would usually be really intense and packed with story and plot lines, however, this one wasn't too crazy for me. It's a quick read (only a few hundred pages) so I finished it in a day, but that wasn't the only reason I finished it so quickly. I wanted the mystery to be unfolded so badly that I couldn't put the book down – it is such a page turner! I feel like a lot of the time thrillers have a lot of different story lines going on, but there was really just the one mystery to be solved which definitely made this an easy and "somewhat" light read.
A Work In Progress – Connor Franta
Here, Connor offers a look at his Midwestern upbringing as one of four children in the home and one of five in the classroom; his struggles with identity, body image, and sexuality in his teen years; and his decision to finally pursue his creative and artistic passions in his early twenties, setting up his thrilling career as a YouTube personality, philanthropist, entrepreneur, and tastemaker.\
Exploring his past with insight and humor, his present with humility, and his future with hope, Connor reveals his private struggles while providing heartfelt words of wisdom for young adults. His words will resonate with anyone coming of age in the digital era, but at the core is a timeless message for people of all ages: don't be afraid to be yourself and to go after what you truly want.
For something different, I decided to go for a memoir/ non-fiction book because sometimes I find that it helps to read factual information as opposed to an actual story. AWiP is not only a quick read, but it is told in multiple short memoirs/stories from Connor's life so it feels more broken up. This memoir isn't just about Connor's life, but he includes inspiration and drive into his writing, so when I put the book down I really wanted to go out and do the things that I love.
Angus Thongs and Full Frontal Snogging – Louise Renninson
Angus: My mixed-breed cat, half domestic tabby, half Scottish wildcat. The size of a small Labrador, only mad. Likes to stalk Mr. and Mrs. Next Door's poodle. I used to drag him around on a lead, but, as I explained to Mrs. Next Door, he ate it.
Thongs: Stupid underwear worn by old Swotty Knickers, Lindsay. What's the point of them, anyway? They just go up your bum, as far as I can tell.
Full-Frontal Snogging: Kissing with the trimmings, lip to lip, open mouth, tongues…everything (apart from dribble, which is never acceptable). As taught to me by a professional snogger.
In this wildly funny journal of a year in the life of Georgia Nicolson, British author Louise Rennison has perfectly captured the soaring joys and bottomless angst if being a teenager.
I read this series when I was younger in primary school, but I am currently in the middle of re-reading them now. I finished the second book today in one sitting (maybe a couple of hours) and because they are so fun and quick, it was easy to read. I have always loved this series and I think that if you are in a slump due to reading such heavily filled with content books, then they are perfect to lighten up your reading. Not a lot happens in each book, but over the entirety of the series, Georgia goes through so much and I just love reading about it and having a laugh when doing so.
The Selection – Kiera Cass
For thirty-five girls, the Selection is the chance of a lifetime. The opportunity to escape the life laid out for them since birth. To be swept up in a world of glittering gowns and priceless jewels. To live in a palace and compete for the heart of gorgeous Prince Maxon.
But for America Singer, being Selected is a nightmare. It means turning her back on her secret love with Aspen, who is a caste below her. Leaving her home to enter a fierce competition for a crown she doesn't want. Living in a palace that is constantly threatened by violent rebel attacks.
Then America meets Prince Maxon. Gradually, she starts to question all the plans she's made for herself—and realizes that the life she's always dreamed of may not compare to a future she never imagined.
If your more into dystpoian or fantasy books rather than contemporaries, then I highly recommend this series (if you haven't already heard of it… because let's be serious!). Despite the dystopian setting, this series main focus is the romance between Prince Maxon and America and the struggles they face together due to their differences. Although this may be a bit of a harder read, content wise, than the rest of the books that I'm mentioning, I feel like the fast pace and fun romance is perfect to get you out of that slump.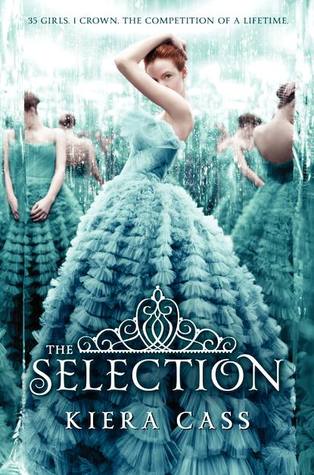 Everything Everything – Nicola Yoon
My disease is as rare as it is famous. Basically, I'm allergic to the world. I don't leave my house, have not left my house in seventeen years. The only people I ever see are my mom and my nurse, Carla.
But then one day, a moving truck arrives next door. I look out my window, and I see him. He's tall, lean and wearing all black—black T-shirt, black jeans, black sneakers, and a black knit cap that covers his hair completely. He catches me looking and stares at me. I stare right back. His name is Olly.
Maybe we can't predict the future, but we can predict some things. For example, I am certainly going to fall in love with Olly. It's almost certainly going to be a disaster.
This is another book that I finished in one sitting because I couldn't put it down. If you like contemporaries with a little bit of drama and emotion, then this is the perfect book for you. It's quick, the plot is easy to follow, and the characters are so likable that it is impossible not to love this book. Although this book focuses on some more serious topics, I know for sure that it made me want to read more books so I'm sure it will for you too.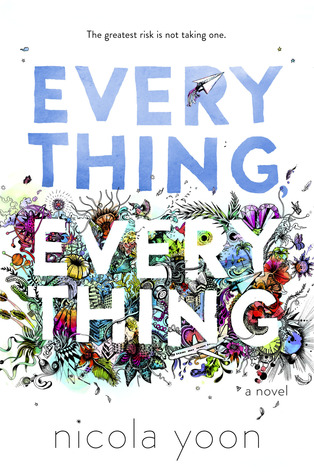 Songs About A Girl – Chris Russell
Charlie Bloom never wanted to be 'with the band'. She's happiest out of the spotlight, behind her camera, unseen and unnoticed. But when she's asked to take backstage photos for hot new boy band Fire&Lights, she can't pass up the chance.
Catapulted into a world of paparazzi and backstage bickering, Charlie soon becomes caught between gorgeous but damaged frontman, Gabriel West, and his boy-next-door bandmate Olly Samson. Then, as the boys' rivalry threatens to tear the band apart, Charlie stumbles upon a mind-blowing secret, hidden in the lyrics of their songs…
Although this is another contemporary, it's different than the other's I've mentioned. If you love reading fan fictions about your favourite band members (don't lie – I know it's your guilty pleasure) then you will love this book. It's a little bit longer for a contemporary and quite a lot happens in the plot, but I still finished it within the day. It's fun, adorable, and the romance the begins to develop between the main character and one of the band members was perfect. It is a part of a series though, with the second book due to release in 2017, so I can't promise that you won't want to read the second book straight after finishing this one.
Harry Potter and the Philosopher's Stone – J.K. Rowling
Harry Potter thinks he is an ordinary boy – until he is rescued by an owl, taken to Hogwarts School of Witchcraft and Wizardry, learns to play Quidditch and does battle in a deadly duel. The Reason … HARRY POTTER IS A WIZARD!
In December 2015, I had just got back into reading after a hectic year of finishing high school. I had read so many books since finishing school at the beginning of November, but by this time I was looking for something quick, different, easy and fun to read. I had never been interested in the HP series before, but since joining the online book community not long before, I thought it was time to pick it up. The first book specifically I think is good to read if you're in a slump because it is such a quick and easy read, but also because the fantasy elements aren't difficult to understand. It really is such a simple book to pick up.
Just One Day – Gayle Forman
Allyson Healey's life is exactly like her suitcase—packed, planned, ordered. Then on the last day of her three-week post-graduation European tour, she meets Willem. A free-spirited, roving actor, Willem is everything she's not, and when he invites her to abandon her plans and come to Paris with him, Allyson says yes. This uncharacteristic decision leads to a day of risk and romance, liberation and intimacy: 24 hours that will transform Allyson's life.
I've chosen this book not only because it is an easy contemporary to follow and because it's a quick read, but because the fact that it's told over the course of one day makes it feel so much quicker. It's fast paced, full of romance, and it's set in Paris, and these are three things that I love! If you've been to Paris, then you will absolutely love reading this book because Gayle Forman's writing makes it so easy to visualise and picture everything that she's describing. I really want to read more books set in Paris!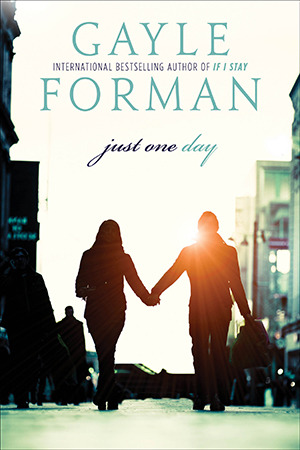 Fangirl – Rainbow Rowell
Cath is a Simon Snow fan.
Okay, the whole world is a Simon Snow fan…
But for Cath, being a fan is her life—and she's really good at it. She and her twin sister, Wren, ensconced themselves in the Simon Snow series when they were just kids; it's what got them through their mother leaving.
Reading. Rereading. Hanging out in Simon Snow forums, writing Simon Snow fan fiction, dressing up like the characters for every movie premiere.
Cath's sister has mostly grown away from fandom, but Cath can't let go. She doesn't want to.
Now that they're going to college, Wren has told Cath she doesn't want to be roommates. Cath is on her own, completely outside of her comfort zone. She's got a surly roommate with a charming, always-around boyfriend, a fiction-writing professor who thinks fan fiction is the end of the civilized world, a handsome classmate who only wants to talk about words… And she can't stop worrying about her dad, who's loving and fragile and has never really been alone.
For Cath, the question is: Can she do this?
Can she make it without Wren holding her hand? Is she ready to start living her own life? Writing her own stories?
And does she even want to move on if it means leaving Simon Snow behind?
I know this is another contemporary, but the reason I've chosen Fangirl is because after reading it, it inspired me to want to read (and write) more, and I feel like any book that focuses on writing or reading will help with this. The main character in this book, Cath, is studying English at college, and she's constantly writing, reading, and talking about Baz and Simon (her favourite characters). So when I finished reading Fangirl, all I wanted to do was read more books. Even though I wasn't in a slump at the time, it definitely encouraged me to read more.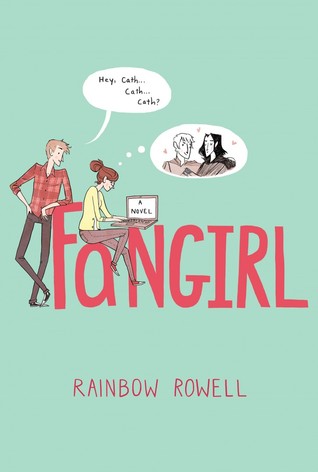 Those are ten books that I think your should read if you're in a slump. Be sure to comment below what books you recommend reading when you don't feel like reading, and I'll see you guys on Sunday with another review!