February was another great reading month and I don't know how I did it! 10 books is slightly less than last month – but I'm still really happy with how much I read. Since it was my last month of holidays and I just started back at uni the other day, I might not be reading as much for leisure anymore, so I made sure that February was going to be a good one! I read some really good books, a couple of books that I didn't enjoy, and I even reread a few books that I haven't read for years.
Comment below how many book you read this month, and what you're favourite was.
*: review book
Quiet – Susan Cain
For far too long, those who are naturally quiet, serious or sensitive have been overlooked. The loudest have taken over – even if they have nothing to say.
It's time for everyone to listen. It's time to harness the power of introverts.
It's time for Quiet.
Being an introvert myself, I was really excited to read this book! I haven't read many non-fiction books, and although I was enjoying the read and learning a lot about myself, I found myself just wanting to read a real story! There was a lot of information and Cain made good use of real life examples, I found myself slightly bored in some chapters.
3.5 stars (almost 4)
Dancing in My Nuddy Pants – Louise Rennison
Georgia thought she had put her "red-bottomosity" to rest when she finally chose Robbie the Sex God over Dave the Laugh. Anyway, Dave the Laugh is now dating her friend Ellen (which didn't stop Georgia from snogging him at a party…)
But when Dave breaks up with Ellen and the Sex God is never around, Georgia doesn't know what to do! As always, in Georgia's life, nothing ever turns out as planned!
I continued on with my reread of this series, and I'm still really enjoying it! I finished this in one sitting and I wanted nothing but to keep reading!
4.5 Stars
* The Chemist – Stephanie Meyer 
In this gripping page-turner, an ex-agent on the run from her former employers must take one more case to clear her name and save her life.
She used to work for the U.S. government, but very few people ever knew that. An expert in her field, she was one of the darkest secrets of an agency so clandestine it doesn't even have a name. And when they decided she was a liability, they came for her without warning.
Now, she rarely stays in the same place or uses the same name for long. They've killed the only other person she trusted, but something she knows still poses a threat. They want her dead, and soon.
I was really excited to read this book (thanks to Hachette for sending me a copy for review), but unfortunately it didn't live up to my expectations. You can read my full thoughts in my review below.
2 Stars.
Review: https://alwaysandforeverreading.wordpress.com/2017/02/19/the-chemist-stephanie-meyer/
Finding Audrey – Sophie Kinsella 
Audrey can't leave the house. she can't even take off her dark glasses inside the house.
Then her brother's friend Linus stumbles into her life. With his friendly, orange-slice smile and his funny notes, he starts to entice Audrey out again – well, Starbucks is a start. And with Linus at her side, Audrey feels like she can do the things she'd thought were too scary. Suddenly, finding her way back to the real world seems achievable.
I am so glad that I read this – it was such a fun, adorable, touching and informative read. It was great to expand my knowledge on anxiety and to also feel that I can slightly relate to Audrey in many ways. It promotes a positive outlook on mental health, but there were so many other aspects to this book that also made it incredible.
4.5 Stars
* Dramarama – E. Lockhart
Two theater-mad, self-invented, fabulositon Ohio teenagers.
One boy, one girl.
One gay, one straight.
One black, one white.
And SUMMER DRAMA CAMP.
It's a season of hormones, gold lamé, hissy fits, jazz hands, song and dance, true love, and unitards that will determine their future
and test their friendship.
I absolutely loved this book, just as I have loved ever other E. Lockhart book that I've read. It was so fun to dive into the world of drama and theatre, and to see how Sadye and her friends coped in this world that is different to anything she's experienced before. I have more details on my thoughts in my spoiler free review.
4.5 stars.
Review: https://alwaysandforeverreading.wordpress.com/2017/02/26/dramarama-e-lockhart/
* Our Own Private Universe – Robin Talley
Fifteen-year-old Aki Simon has a theory. And it's mostly about sex.
No, it isn't that kind of theory. Aki already knows she's bisexual—even if, until now, it's mostly been in the hypothetical sense. Aki has dated only guys so far, and her best friend, Lori, is the only person who knows she likes girls, too.
Actually, Aki's theory is that she's got only one shot at living an interesting life—and that means she's got to stop sitting around and thinking so much. It's time for her to actually do something. Or at least try.
This was a really fun and light hearted read that was still able to cover a wide range of topics that aren't talked about enough. This is the first book about a bisexual teenager that I've ever picked up, and I think that there needs to be more! Hear the rest of my thoughts in my spoiler free review.
4 Stars
Review: will be up 17th March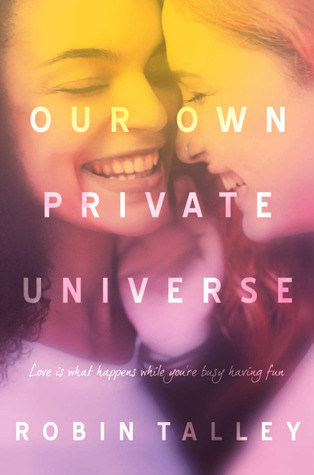 * Wing Jones – Katherine Webber
Jandy Nelson meets Friday Night Lights: a sweeping story about love and family from an exceptional new voice in YA. With a grandmother from China and another from Ghana, fifteen-year-old Wing Jones is often caught between worlds. But when tragedy strikes, Wing discovers a talent for running she never knew she had. Wing's speed could bring her family everything it needs. It could also stop Wing getting the one thing she wants.
I enjoyed this book so much that I finished it in less than a day because I literally couldn't put it down! There was cultural diversity, romance, emotion and drama, and so much more! The author actually wrote the majority of this book during Nanowrimo in 2015 which I think is amazing, and it only inspires me even more to continue working on my Nanowrimo novel.
4.5 Stars.
Review: will be up 21st March
* A Shadow Bright and Burning – Jessica Cluess
Henrietta Howel can burst into flames. When she is brought to London to train with Her Majesty's sorcerers, she meets her fellow sorcerer trainees, young men eager to test her powers and her heart. One will challenge her. One will fight for her. One will betray her. As Henrietta discovers the secrets hiding behind the glamour of sorcerer life, she begins to doubt that she's the true prophesied one. With battle looming, how much will she risk to save the city–and the one she loves?
I was really excited to pick this book up. I haven't been in a fantasy mood so I've procrastinated reading it for a few months, but I decided to just read it this month. Unfortunately, I really couldn't stay interested in what was happening. I was bored and ended up skim reading most of it. I have a review/discussion going up on my blog soon where I go into detail about reading genres that you're not in the mood for and I talk about ASBaB in that post.
2 Stars.
Review: will be up March 24th
* Vigilante – Kady Cross
It's senior year, and Hadley and her best friend, Magda, should be starting the year together. Instead, Magda is dead and Hadley is alone. Raped at a party the year before and humiliated, Magda was driven to take her own life and Hadley is forced to see her friend's attackers in the classroom every day. Devastated, enraged and needing an outlet for her grief, Hadley decides to get a little justice of her own.
Donning a pink ski mask and fueled by anger, Hadley goes after each of the guys one by one, planning to strip them of their dignity and social status the way they did to Magda. As the legend of the pink-masked Vigilante begins to take on a life of its own, Hadley's revenge takes a turn for the dangerous. Could her need for vengeance lead her down a path she can't turn back from?
This book was incredible! I've never read a book that's left me feeling angry, annoyed and disgusted, yet so touched by the story and how the events panned out. I agree with a lot of people when they say tat it isn't the best written book, but I think the story line is really important and more YA books need to discuss this issue.
4.5 Stars.
Review; will be up March 28th
Before I Fall – Lauren Oliver
They say 'live every day as if it's your last'—but you never actually think it's going to be. At least I didn't.
The thing is, you don't get to know when it happens. You don't remember to tell your family that you love them or—in my case—remember to say goodbye to them at all.
But what if, like me, you could live your last day over and over again? Could you make it perfect? If your whole life flashed before your eyes, would you have no regrets? Or are there some things you'd want to change…?
I read this book in high school about three years ago and I loved it – it was the perfect book that I needed to read during that time in my life. Since the movie is out (today!!!!) I wanted to reread it before going to see the adaptation. I forgot just how much I loved this book and how many lessons Sam learn and teaches the readers. I cannot wait to see this movie!
5 Stars.
And that's it for February! See you guys soon for my very first book haul!