Hello again, and welcome to my first ever book haul! I haven't done one on my blog before, but I thought it would be a fun thing to do. I'm trying to save money at the moment so I haven't been buying many books (except for my required reading for the uni semester) so apart from that most of these were sent to me for review!
Hope you enjoy, and comment below if you want to see more!
KEY: * (this book was sent to me by the publisher)
Wing Jones – Katherine Webber *
Jandy Nelson meets Friday Night Lights: a sweeping story about love and family from an exceptional new voice in YA. With a grandmother from China and another from Ghana, fifteen-year-old Wing Jones is often caught between worlds. But when tragedy strikes, Wing discovers a talent for running she never knew she had. Wing's speed could bring her family everything it needs. It could also stop Wing getting the one thing she wants.
Frog Kisser – Garth Nix *
Poor Princess Anya. Forced to live with her evil stepmother's new husband, her evil stepstepfather. Plagued with an unfortunate ability to break curses with a magic-assisted kiss. And forced to go on the run when her stepstepfather decides to make the kingdom entirely his own.
Aided by a loyal talking dog, a boy thief trapped in the body of a newt, and some extraordinarily mischievous wizards, Anya sets off on a Quest that, if she plays it right, will ultimately free her land-and teach her a thing or two about the use of power, the effectiveness of a well-placed pucker, and the finding of friends in places both high and low.
Indelible – Andelia Saunders *
Magdalena has an unsettling gift. She sees writing on the bodies of everyone she meets—names, dates, details both banal and profound—and her only relief from the onslaught of information is to take off her glasses and let the world recede. Mercifully, her own skin is blank.
When she meets Neil, she is intrigued to see her name on his cheek. He's in Paris for the summer, studying a medieval pilgrimage to the rocky coast of Spain, where the body of Saint Jacques was said to have washed ashore, covered in scallop shells. Desperate to make things right after her best friend dies—a loss she might have prevented—Magdalena embarks on her own pilgrimage, but not before Neil falls for her, captivated by her pale eyes, charming Eastern European accent, and aura of heartbreak.
Middlemarch – George Eliot
George Eliot's most ambitious novel is a masterly evocation of diverse lives and changing fortunes in a provincial community. Peopling its landscape are Dorothea Brooke, a young idealist whose search for intellectual fulfilment leads her into a disastrous marriage to the pedantic scholar Casaubon; the charming but tactless Dr Lydgate, whose pioneering medical methods, combined with an imprudent marriage to the spendthrift beauty Rosamond, threaten to undermine his career; and the religious hypocrite Bulstode, hiding scandalous crimes from his past. As their stories entwine, George Eliot creates a richly nuanced and moving drama, hailed by Virginia Woolf as 'one of the few English novels written for grown-up people'.
The Importance of Being Earnest – Oscar Wilde
Oscar Wilde's brilliant play makes fun of the English upper classes with light-hearted satire and dazzling humour. It is 1890's England and two young gentlemen are being somewhat limited with the truth. To inject some excitement into their lives, Mr Worthing invents a brother, Earnest, as an excuse to leave his dull country life behind him to pursue the object of his desire, the ravishing Gwendolyn. While across town Algernon Montecrieff decides to take the name Earnest, when visiting Worthing's young ward Cecily. The real fun and confusion begins when the two end up together and their deceptions are in danger of being revealed.
Great Expectations – Charles Dickens
Dickens's magnificent novel of guilt, desire, and redemption
The orphan Pip's terrifying encounter with an escaped convict on the Kent marshes, and his mysterious summons to the house of Miss Havisham and her cold, beautiful ward Estella, form the prelude to his "great expectations." How Pip comes into a fortune, what he does with it, and what he discovers through his secret benefactor are the ingredients of his struggle for moral redemption.
Heart of Darkness – Joseph Conrad
Dark allegory describes Marlow's journey up the Congo River and his meeting with, and fascination by, Mr. Kurtz, a mysterious personage who dominates the unruly inhabitants of the region. Masterly blend of adventure, character development, psychological penetration. Considered by many Conrad's finest, most enigmatic story.
The Crying Lot of 49 – Thomas Pynchon
Suffused with rich satire, chaotic brilliance, verbal turbulence and wild humor, The Crying of Lot 49 opens as Oedipa Maas discovers that she has been made executrix of a former lover's estate. The performance of her duties sets her on a strange trail of detection, in which bizarre characters crowd in to help or confuse her. But gradually, death, drugs, madness and marriage combine to leave Oedipa in isolation on the threshold of revelation, awaiting the Crying of Lot 49.
Rapture – Carol Ann Duffy
The effortless virtuosity, drama and humanity of Carol Ann Duffy's verse have made her a most admired contemporary poet. Rapture, her seventh collection, is a book-length love poem, and a moving act of personal testimony. But what sets these poems apart from other love poems is Duffy's refusal to simplify the contradictions of love, and read its transformations–infatuation, longing, passion, commitment, rancour, separation and grief–as either redemptive or destructive. Rapture> is a map of real love, in all its churning complexity; simultaneously direct and subtle, with poems that will find deep resonance in the experience of most readers, it is a collection that speaks for us all.
Mrs Dalloway – Virginia Woolf
Clarissa Dalloway, elegant and vivacious, is preparing for a party and remembering those she once loved. In another part of London, Septimus Warren Smith is shell-shock and on the brink of madness. Smith's day interweaves with that of Clarissa and her friends, their lives converge as the party reaches its glittering climax.
King's Cage – Victoria Aveyard
In this breathless third installment to Victoria Aveyard's bestselling Red Queen series, allegiances are tested on every side. And when the Lightning Girl's spark is gone, who will light the way for the rebellion?
Mare Barrow is a prisoner, powerless without her lightning, tormented by her lethal mistakes. She lives at the mercy of a boy she once loved, a boy made of lies and betrayal. Now a king, Maven Calore continues weaving his dead mother's web in an attempt to maintain control over his country—and his prisoner.
As Mare bears the weight of Silent Stone in the palace, her once-ragtag band of newbloods and Reds continue organizing, training, and expanding. They prepare for war, no longer able to linger in the shadows. And Cal, the exiled prince with his own claim on Mare's heart, will stop at nothing to bring her back.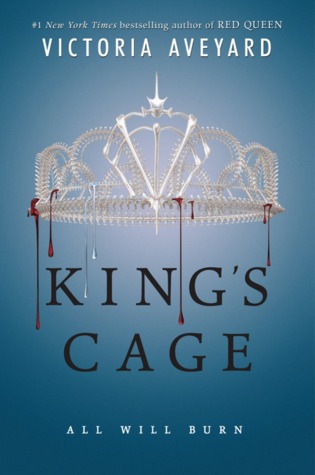 Because You'll Never Meet Me & Nowhere Near You – Leah Thomas
Ollie and Moritz are best friends, but they can never meet. Ollie is allergic to electricity. Contact with it causes debilitating seizures. Moritz's weak heart is kept pumping by an electronic pacemaker. If they ever did meet, Ollie would seize. But Moritz would die without his pacemaker. Both hermits from society, the boys develop a fierce bond through letters that become a lifeline during dark times—as Ollie loses his only friend, Liz, to the normalcy of high school and Moritz deals with a bully set on destroying him.
A story of impossible friendship and hope under strange circumstances, this debut is powerful, dark and humorous in equal measure. These extraordinary voices bring readers into the hearts and minds of two special boys who, like many teens, are just waiting for their moment to shine.
We Come Apart – Sarah Crossan & Brian Conaghan
Nicu has emigrated from Romania and is struggling to find his place in his new home. Meanwhile, Jess's home life is overshadowed by violence. When Nicu and Jess meet, what starts out as friendship grows into romance as the two bond over their painful pasts and hopeful futures. But will they be able to save each other, let alone themselves?
For fans of Una LaMarche's Like No Other, this illuminating story told in dual points of view through vibrant verse will stay with readers long after they've turned the last page.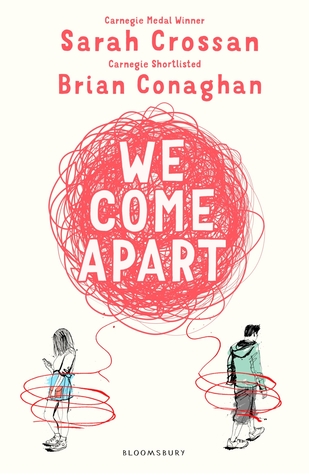 The Cruelty – Scott Bergstrom
When her diplomat father is kidnapped and the U.S. Government is unable to help, 17 year-old Gwendolyn Bloom sets off across the sordid underbelly of Europe to rescue him. Following the only lead she has—the name of a Palestinian informer living in France—she plunges into a brutal world of arms smuggling and human trafficking. As she journeys from the slums of Paris, to the nightclubs of Berlin, to the heart of the most feared crime family in Prague, Gwendolyn discovers that to survive in this new world she must become every bit as cruel as the men she's hunting.
Seven Days Of You – Cecilia Vinesse
Sophia has seven days left in Tokyo before she moves back to the States. Seven days to say good-bye to the electric city, her wild best friend, and the boy she's harbored a semi-secret crush on for years. Seven perfect days…until Jamie Foster-Collins moves back to Japan and ruins everything.
Jamie and Sophia have a history of heartbreak, and the last thing Sophia wants is for him to steal her leaving thunder with his stupid arriving thunder. Yet as the week counts down, the relationships she thought were stable begin to explode around her. And Jamie is the one who helps her pick up the pieces. Sophia is forced to admit she may have misjudged Jamie, but can their seven short days of Tokyo adventures end in anything but good-bye?
The Chemist – Stephanie Meyer (HARD COVER AND SIGNED!!!!)
She used to work for the U.S. government, but very few people ever knew that. An expert in her field, she was one of the darkest secrets of an agency so clandestine it doesn't even have a name. And when they decided she was a liability, they came for her without warning.
Now, she rarely stays in the same place or uses the same name for long. They've killed the only other person she trusted, but something she knows still poses a threat. They want her dead, and soon.
When her former handler offers her a way out, she realizes it's her only chance to erase the giant target on her back. But it means taking one last job for her ex-employers. To her horror, the information she acquires only makes her situation more dangerous.
I already owned a paperback but won a signed hard back!!
Comment below if you've read any of these books and what I should read first!