Hello fellow readers!
Another month done and dusted, and we're a third of the way through 2017?!? April was another decent reading month;
I read 10 books in total
7 books were for review (reviews coming soon)
2 were for uni
1 was for my own benefit, and it was a poetry book!
I also participated in Dewey's 24 Hour Readathon on the 30th and read two and a half books. A blog post will be up about that soon.
Comment below how your reading month was!
Milk and Honey - Rupi Kaur
milk and honey is a collection of poetry and prose about survival. It is about the experience of violence, abuse, love, loss, and femininity. It is split into four chapters, and each chapter serves a different purpose, deals with a different pain, heals a different heartache. milk and honey takes readers through a journey of the most bitter moments in life and finds sweetness in them because there is sweetness everywhere if you are just willing to look.
Everyone talks and posts about this poetry book and I've wanted to pick it up for so long. They finally had it in stock so I bought it and devoured it in a day because it made me feel so many emotions! I decided to tag all my favourite poems… which ended up being a majority of the book.
5 Stars.
Seven Days of You - Cecilia Vinesse
Sophia has seven days left in Tokyo before she moves back to the States. Seven days to say good-bye to the electric city, her wild best friend, and the boy she's harbored a semi-secret crush on for years. Seven perfect days…until Jamie Foster-Collins moves back to Japan and ruins everything. Jamie and Sophia have a history of heartbreak, and the last thing Sophia wants is for him to steal her leaving thunder with his stupid arriving thunder. Yet as the week counts down, the relationships she thought were stable begin to explode around her. 
I liked this book, but I feel like it lacked a lot of things that would have made this a great story. I did a spoiler free review where I discussed everything in more detail, but it was a fun and quick contemporary read.
3 Stars.
Review:
Windfall - Jennifer E. Smith
Alice doesn't believe in luck—at least, not the good kind. But she does believe in love, and for some time now, she's been pining for her best friend, Teddy. On his eighteenth birthday—just when it seems they might be on the brink of something—she buys him a lottery ticket on a lark. To their astonishment, he wins $140 million, and in an instant, everything changes.
I loved this book! It had been such a long time since I had read a book that I really loved, but as soon as I picked this up I couldn't put it down! I think I ended up finishing it in a day; it was fun and different and I think it was what I needed to read to get me back into that reading mood. More thoughts in my review!
5 Stars.
Review: May 4th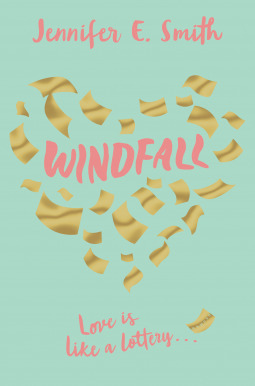 The Upside of Unrequited - Becky Albertalli
Seventeen-year-old Molly Peskin-Suso knows all about unrequited love. No matter how many times her twin sister, Cassie, tells her to woman up, Molly can't stomach the idea of rejection. So she's careful. Fat girls always have to be careful.
Then a cute new girl enters Cassie's orbit, and for the first time ever, Molly's cynical twin is a lovesick mess. Meanwhile, Molly's totally not dying of loneliness—except for the part where she is. Luckily, Cassie's new girlfriend comes with a cute hipster-boy sidekick. If Molly can win him over, she'll get her first kiss and she'll get her twin back.
There's only one problem: Molly's coworker, Reid. He's a chubby Tolkien superfan with a season pass to the Ren Faire, and there's absolutely no way Molly could fall for him.
Another incredible book that I couldn't put down. I also finished this in a day; it was diverse, I loved the romance, there was family aspects, and it was so much fun. I haven't read Simon but I now own it and plan on reading it soon. More thoughts in my review.
5 Stars.
Review: May 12
King's Cage - Victoria Aveyard
Mare Barrow is a prisoner, powerless without her lightning, tormented by her lethal mistakes. She lives at the mercy of a boy she once loved, a boy made of lies and betrayal. Now a king, Maven Calore continues weaving his dead mother's web in an attempt to maintain control over his country—and his prisoner.
As Mare bears the weight of Silent Stone in the palace, her once-ragtag band of newbloods and Reds continue organizing, training, and expanding. They prepare for war, no longer able to linger in the shadows. And Cal, the exiled prince with his own claim on Mare's heart, will stop at nothing to bring her back.
Considering I didn't really like the previous book in this series, I actually really liked this one. I was more interested in the story and I loved how Mare continued to develop throughout. More of my thoughts can be found in my review coming soon.
4 Stars
Review: 16th May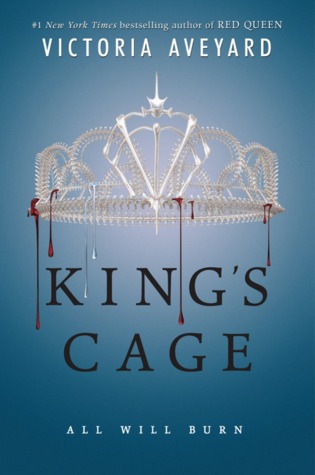 Mrs Dalloway - Virginia Woolf
Clarissa Dalloway, elegant and vivacious, is preparing for a party and remembering those she once loved. In another part of London, Septimus Warren Smith is shell-shock and on the brink of madness. Smith's day interweaves with that of Clarissa and her friends, their lives converge as the party reaches its glittering climax.
I had to read this for my Intro to English: Ideas of the Real uni class. To be honest, I really couldn't get into the story and I ended up skim reading it and just reading a summary. I was just bored and confused and I really didn't like that it didn't have chapters because I didn't know when to put the book down.
2 Stars.
Middlemarch - George Eliot
Dorothea is bright, beautiful and rebellious and has married the wrong man. Lydgate is the ambitious new doctor in town and has married the wrong woman. Both of them long to make a difference in the world. But their stories do not proceed as expected…
Middlemarch contains all of life – the rich and the poor, literature and science, politics and romance – and is a stunningly compelling insight into the human struggle to find contentment
Another book I read for uni, this time for my 'Lit and Society in Victorian Britain' class. I didn't hate this book; I enjoyed how we got the life stories of two different characters whose lives linked together, but not "too" together (as in they were from the same town but weren't romantically connected as I initially assumed). It was just SO long and it dragged on (900 pages!) so I began to lose interest in the end.
3 Stars
Close Your Eyes - Nicci Cloke
Southfield High School is oh so normal, with its good teachers, its bad, and its cliques. But despite the cliques, there's a particular group of friends who have known each other forever and know that they can rely on each other for anything.
There's the twins: Aisha, rebellious, kind, and just a tiny bit worried about what the hell she's going to do once this year is over, and Vis, smart, quiet and observant. Then there's Remy, the loudmouth, and Gemma, who's more interested in college boys and getting into the crap club in town. And then there's Elise: the pretty one.
But at the start of Year 11, when the group befriend the new boy, Elijah, things start to change. The group find themselves not as close as they used to be.
Until one Tuesday, when the students are trapped inside the school building. And one of them has a gun.
Overall, I really liked this book. I've never actually read a book based on a school shooting before so I found that really interesting to read about. I also enjoyed how it was told through different forms of communication; interviews, blogs, messages. It was a bit slow to begin with, but the mystery and suspense in the end made up for that.
4 Stars.
Review: May 19 (my birthday!)
Indelible - Adelia Saunders
Magdalena has an unsettling gift. She sees writing on the body of everyone she meets – names, dates, details both banal and profound – and her only relief from the onslaught of information is to take off her glasses and let the world recede. Mercifully, her own skin is blank.
When she meets Neil, she is intrigued to see her name on his cheek. He's in Paris for the summer, studying a medieval pilgrimage to the rocky coast of Spain, where the body of Saint Jacques was said to have washed ashore, covered in scallop shells. Desperate to make things right after her best friend dies – a loss she might have prevented – Magdalena embarks on her own pilgrimage, but not before Neil falls for her, captivated by her pale eyes, charming Eastern European accent, and aura of heartbreak.
Despite the blurb sounding really interesting when I first requested it for review, I read it and did not enjoy it at all. Luckily I read it during the 24 Hour Readathon and because it's a short book I finished it quickly. If it wasn't for that, I probably would have DNF'ed it because I wasn't interested in the story or the characters. More details in my review.
2 Stars
Review: May 23
The Blue Cat - Ursula Dubosarsky
A boy stood in the playground under the big fig tree. 'He can't speak English,' the children whispered.
Sydney, 1942. The war is coming to Australia – not only with the threat of bombardment, but also the arrival of refugees from Europe. Dreamy Columba's world is growing larger. She is drawn to Ellery, the little boy from far away, and, together with her highly practical best friend Hilda, the three children embark on an adventure through the harbour-side streets – a journey of discovery and terror, in pursuit of the mysterious blue cat …
I also read this during the 24 Hour Readathon and I managed to finish it in one sitting. It was a nice quick read that was able to educate me on the 40's war time in Australia. There were some aspects to the story that I enjoyed, but it fell short for me due to the lack of character connection. More of my thoughts will be in my review.
3 Stars
Review: May 26
Comment below what your favourite book from April was, and what you plan on reading in May!