Here are the books I receive in April. The first few books I bought in a Dymocks 3 for 2 sale (how could I say no?), I received one for an Easter present, and the rest were sent to me for review.
What books did you get in April?
*: review books
The Wrong Girl - Zoe Foster
Lily is a producer on a successful cooking segment for a daily morning show. The new chef has just arrived on set and he is drop dead gorgeous. And despite everything – the sabbatical that Lily and her flatmate Simone are taking from men, the fact that Jack is a work colleague – Lily falls head over heels for him.
And while Lily battles her feelings, her flatmate Simone breaks their pact and starts dating some guy from her wholefoods shop. That guy turns out to be Jack. Up close, Lily bravely watches on as romance blossoms between Simone and Jack. Or does it? They don't seem to have much in common, apart from their striking good looks. And Lily and Jack just seem to get each other. Is that the same thing as falling in love?
The Diary of a Young Girl - Anne Frank
In 1942, with Nazis occupying Holland, a thirteen-year-old Jewish girl and her family fled their home in Amsterdam and went into hiding. For the next two years, until their whereabouts were betrayed to the Gestapo, they and another family lived cloistered in the "Secret Annexe" of an old office building. Cut off from the outside world, they faced hunger, boredom, the constant cruelties of living in confined quarters, and the ever-present threat of discovery and death.
Milk and Honey - Rupi Kaur
milk and honey is a collection of poetry and prose about survival. It is about the experience of violence, abuse, love, loss, and femininity. It is split into four chapters, and each chapter serves a different purpose, deals with a different pain, heals a different heartache. milk and honey takes readers through a journey of the most bitter moments in life and finds sweetness in them because there is sweetness everywhere if you are just willing to look.
* But Then I Came Back - Estelle Laure
Eden: As far as coma patients go, Eden's lucky. She woke up. But still, she can't shake the feeling that she might have dragged something back from the near-afterlife.
Joe: Joe visits the hospital every day, hoping that Jaz, his lifelong friend, will wake up. More than anything, he wants to hear her voice again. But he's not sure anyone can reach her.
Eden & Joe: Even though she knows it sounds crazy, Eden tells Joe that they might be able to talk to Jaz. Opening themselves up to the great unknown—and each other—Eden and Joe experience life: mysterious and scary, beautiful and bright.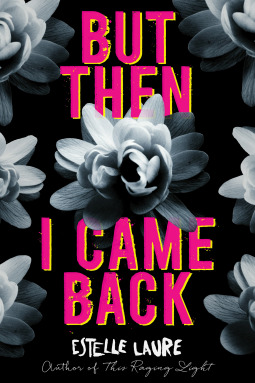 * Close Your Eyes - Nicci Cloke
Southfield High School is oh so normal, with its good teachers, its bad, and its cliques. But despite the cliques, there's a particular group of friends who have known each other forever and know that they can rely on each other for anything. \
There's the twins: Aisha, rebellious, kind, and just a tiny bit worried about what the hell she's going to do once this year is over, and Vis, smart, quiet and observant. Then there's Remy, the loudmouth, and Gemma, who's more interested in college boys and getting into the crap club in town. And then there's Elise: the pretty one.
But at the start of Year 11, when the group befriend the new boy, Elijah, things start to change. The group find themselves not as close as they used to be.
Until one Tuesday, when the students are trapped inside the school building. And one of them has a gun.
* The Names They Gave Us - Emery Lord
Lucy Hansson was ready for a perfect summer with her boyfriend, working at her childhood Bible camp on the lake. But when her mom's cancer reappears, Lucy falters—in faith, in love, and in her ability to cope. When her boyfriend "pauses" their relationship and her summer job switches to a different camp—one for troubled kids—Lucy isn't sure how much more she can handle. Attempting to accept a new normal, Lucy slowly regains footing among her vibrant, diverse coworkers, Sundays with her mom, and a crush on a fellow counselor. But when long-hidden family secrets emerge, can Lucy set aside her problems and discover what grace really means?
* Countless - Karen Gregory
When Hedda discovers she is pregnant, she doesn't believe she could ever look after a baby. The numbers just don't add up. She is young, and still in the grip of an eating disorder that controls every aspect of how she goes about her daily life. She's even given her eating disorder a name – Nia. But as the days tick by, Hedda comes to a decision: she and Nia will call a truce, just until the baby is born. 17 weeks, 119 days, 357 meals. She can do it, if she takes it one day at a time …
Simon vs the Homo Sapiens Agenda - Becky Albertalli
Sixteen-year-old and not-so-openly gay Simon Spier prefers to save his drama for the school musical. But when an email falls into the wrong hands, his secret is at risk of being thrust into the spotlight. Now Simon is actually being blackmailed: if he doesn't play wingman for class clown Martin, his sexual identity will become everyone's business. Worse, the privacy of Blue, the pen name of the boy he's been emailing, will be compromised.
* The Hate U Give - Angie Thomas
Sixteen-year-old Starr Carter moves between two worlds: the poor neighborhood where she lives and the fancy suburban prep school she attends. The uneasy balance between these worlds is shattered when Starr witnesses the fatal shooting of her childhood best friend Khalil at the hands of a police officer. Khalil was unarmed.
Soon afterward, his death is a national headline. Some are calling him a thug, maybe even a drug dealer and a gangbanger. Protesters are taking to the streets in Khalil's name. Some cops and the local drug lord try to intimidate Starr and her family. What everyone wants to know is: what really went down that night? And the only person alive who can answer that is Starr.
* Under the Same Sky - Mojgan Shamsalipoor, Milad Jafari & James Knight
The powerful and incredibly moving story of Mojgan Shamsalipoor and Milad Jafari – two young Iranian asylum seekers who are showing that the power of love can conquer all obstacles.  After fleeing their homeland, Australian refugee policies threaten to tear a young couple apart. An unforgettable story of love, hope and a quest for freedom. At seventeen, all Mojgan Shamsalipoor wanted was to be safe from physical and sexual abuse, go to school, and to eventually marry for love. In Iran, she was denied all of this. Milad Jafari was a shy teenage boy who found his voice as a musician. But the rap music he loved was illegal in his country. All Milad's father, a key maker, builder and shopkeeper, wanted was for his family to live free from the fear of arrest, imprisonment or execution. To do that they all had to flee Iran.
* The Whole Thing Together - Ann Brashares
Summer for Sasha and Ray means the sprawling old house on Long Island. Since they were children, they've shared almost everything—reading the same books, running down the same sandy footpaths to the beach, eating peaches from the same market, laughing around the same sun-soaked dining table. Even sleeping in the same bed, on the very same worn cotton sheets. But they've never met.
Sasha's dad was once married to Ray's mom, and together they had three daughters: Emma, the perfectionist; Mattie, the beauty; and Quinn, the favorite. But the marriage crumbled and the bitterness lingered. Now there are two new families—and neither one will give up the beach house that holds the memories, happy and sad, of summers past.