May started off as a really good reading month for me. I wanted to read all the time, and for the first couple of weeks I was reading a book every two days (this is when I read a majority of the books I read this month). However, while reading THuG and then ACoWaR, they took me slightly longer than the rest of the books. I wouldn't call it a slump, it's just that they're both long and heavy books! Plus I became obsessed with 'That '70s Show' and watched all eight seasons in less than two weeks… (I shouldn't have admitted that). I read 11 books this month and I love most of them – I also reached the half way point for my 2017 goal of 100 books (I'm now at 54).
Anyway, here are the books I read this month!
My Sister's Keeper - Jodi Picoult
Anna is not sick, but she might as well be. By age thirteen, she has undergone countless surgeries, transfusions and shots so that her older sister, Kate, can somehow fight the leukemia that has plagued her since childhood. Anna was conceived as a bone marrow match for Kate, a life and a role that she has never questioned until now. Like most teenagers, Anna is beginning to ask herself who she truly is. But unlike most teenagers, she has always been defined in terms of her sister – and so Anna makes a decision that for most would be unthinkable, a decision that will tear her family apart and perhaps have fatal consequences for the sister she loves.
I've watched this movie a million times, and bawled my eyes out every single time. I finally decided to pick this emotionally captivating story up, and I really enjoyed it. I already knew that the ending was different and when I heard about how this ended, I thought it was stupid, but after reading it I understood it and it made more sense than the movie ending. I didn't cry as much and I can't decide which ending I prefer, but it was still a good read.
3.5 Stars
The Crying Lot of 49 - Thomas Pynchon 
Suffused with rich satire, chaotic brilliance, verbal turbulence and wild humor, The Crying of Lot 49 opens as Oedipa Maas discovers that she has been made executrix of a former lover's estate. The performance of her duties sets her on a strange trail of detection, in which bizarre characters crowd in to help or confuse her. But gradually, death, drugs, madness and marriage combine to leave Oedipa in isolation on the threshold of revelation, awaiting the Crying of Lot 49.
I had to read this book for my uni class, Intro to English: Ideas of the Real. To be honest, I didn't really enjoy it or understand the story. I thought it sounded fun in the beginning, but I got bored pretty easy. The cover I own is really pretty though!
2 Stars
Heart of Darkness - Joseph Conrad
The silence of the jungle is broken only by the ominous sound of drumming. Life on the river is brutal and unknown threats lurk in the darkness. Marlow's mission to captain a steamer upriver into the dense interior leads him into conflict with those who inhabit the forest. But his decision to hunt down the mysterious Mr. Kurtz—an ivory trader who is the subject of sinister rumors—leads him into more than just physical peril. The short story Youth, in which Marlow tells of his unlucky experience onboard a ship where the cargo caught fire, is also included.
Another book I read for uni; Lit and Society in Victorian Britain. I also didn't really enjoy this one and I struggled to understand what happened. I've read so much about it and watched so many explanation videos, and I still don't get it! It's a bit annoying because I'm doing a group presentation and individual essay on it. Wish me luck!
2 Stars
Simon Vs The Homo Sapiens Agenda - Becky Albertalli 
Sixteen-year-old and not-so-openly gay Simon Spier prefers to save his drama for the school musical. But when an email falls into the wrong hands, his secret is at risk of being thrust into the spotlight. Now Simon is actually being blackmailed: if he doesn't play wingman for class clown Martin, his sexual identity will become everyone's business. Worse, the privacy of Blue, the pen name of the boy he's been emailing, will be compromised.
Eeeek! I loved this book so so much! I read THE UPSIDE OF UNREQUITED last month and freekin loved it, and I knew I was going to enjoy this one too. It was fun, the characters were amazingly written, and the story line was both inciteful, deep and light hearted. I cannot wait for the movie to come out.
5 Stars
But Then I Came Back - Estelle Laure
Estelle Laure is a bright new talent with a gorgeous voice – perfect for fans of John Green and Rainbow Rowell. Eden has always let her head lead the way. It's why she excels at ballet, at school, and at life in general. But when she nearly drowns and then wakes from a month-long coma, everything is different. She's troubled by dreams that seem more real than waking life, and her neat cookie-cutter existence is no longer satisfying. Unable to stifle her passionate heart anymore, she finds herself drawn to a boy with melting-chocolate eyes, and to a future different to what she ever imagined. That's when Eden discovers that when it comes to love, first you fall, then you have to leap. Estelle Laure's debut, This Raging Light, was a stunning debut with an unforgettable voice that has captured the hearts for readers.
Another incredible book that I loved. After such a streak of boring books, I had two in a row that I loved and finished in a day. The characters were amazing (especially Eden and Joe), the story line was both beautiful and unique, and it is one of the best books I've read this year. More thoughts on my review;
5 Stars
Review:
The Names They Gave Us - Emery Lord
Lucy Hansson was ready for a perfect summer with her boyfriend, working at her childhood Bible camp on the lake. But when her mom's cancer reappears, Lucy falters—in faith, in love, and in her ability to cope. When her boyfriend "pauses" their relationship and her summer job switches to a different camp—one for troubled kids—Lucy isn't sure how much more she can handle. Attempting to accept a new normal, Lucy slowly regains footing among her vibrant, diverse coworkers, Sundays with her mom, and a crush on a fellow counselor. But when long-hidden family secrets emerge, can Lucy set aside her problems and discover what grace really means?
This was a great story about a teenage girl experiencing new and different things in her life – some good and some bad. Overall I really enjoyed this one; it focused on religion which is something that I rarely read about in YA, but it also focuses on serious topics as well. More thoughts in my review.
4 Stars
Review; June 9
Countless - Karen Gregory
When Hedda discovers she is pregnant, she doesn't believe she could ever look after a baby. The numbers just don't add up. She is young, and still in the grip of an eating disorder that controls every aspect of how she goes about her daily life. She's even given her eating disorder a name – Nia. But as the days tick by, Hedda comes to a decision: she and Nia will call a truce, just until the baby is born. 17 weeks, 119 days, 357 meals. She can do it, if she takes it one day at a time …
I LOVED this book (I even finished it within a day). It talked about some really touching and heartbreaking topics that aren't spoken about enough in YA, and I learnt a lot. It was hopeful and emotional, and one of the best books I've read this year so far.
5 Stars
Review: June 13
Rapture - Carol Ann Duffy
The effortless virtuosity, drama and humanity of Carol Ann Duffy's verse have made her a most admired contemporary poet. Rapture, her seventh collection, is a book-length love poem, and a moving act of personal testimony. But what sets these poems apart from other love poems is Duffy's refusal to simplify the contradictions of love, and read its transformations–infatuation, longing, passion, commitment, rancour, separation and grief–as either redemptive or destructive. Rapture> is a map of real love, in all its churning complexity; simultaneously direct and subtle, with poems that will find deep resonance in the experience of most readers, it is a collection that speaks for us all.
I read this book of poetry for uni; Intro to English: Ideas of the Real. I love modern poetry, especially love poems, so I thought I was going to enjoy this one. However, I only loved a few, and the rest felt a bit meh. When we start talking about it in class and focusing on individual poems, I might find that I enjoy others too.
3 Stars
The Hate U Give - Angie Thomas
Sixteen-year-old Starr lives in two worlds: the poor neighbourhood where she was born and raised and her posh high school in the suburbs. The uneasy balance between them is shattered when Starr is the only witness to the fatal shooting of her unarmed best friend, Khalil, by a police officer. Now what Starr says could destroy her community. It could also get her killed.
Such a heartbreaking, touching and important read that everyone needs to pick up! I felt such a wide range of emotions while reading this, but overall I loved it (except it was really long). More thoughts in my review coming soon.
4.5 Stars
Review: June 16
A Court of Wings and Ruin - Sarah J. Maas
Feyre has returned to the Spring Court, determined to gather information on Tamlin's maneuverings and the invading king threatening to bring Prythian to its knees. But to do so she must play a deadly game of deceit-and one slip may spell doom not only for Feyre, but for her world as well.
As war bears down upon them all, Feyre must decide who to trust amongst the dazzling and lethal High Lords-and hunt for allies in unexpected places.
Overall I enjoyed the conclusion to this trilogy, even though I'm still slightly confused about pretty much the entire second half of the book. I seem to be the only one who prefers ACOTAR to the rest of the books in the series, but I love walking my own path! I'll have a review up soon!
3.5 Stars
Review: June 20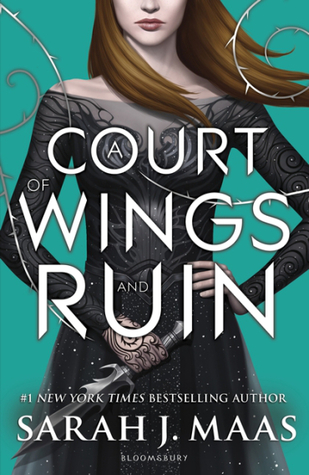 Always and Forever, Lara Jean - Jenny Han
Lara Jean is having the best senior year a girl could ever hope for. She is head over heels in love with her boyfriend, Peter; her dad's finally getting remarried to their next door neighbor, Ms. Rothschild; and Margot's coming home for the summer just in time for the wedding.
But change is looming on the horizon. And while Lara Jean is having fun and keeping busy helping plan her father's wedding, she can't ignore the big life decisions she has to make. Most pressingly, where she wants to go to college and what that means for her relationship with Peter. She watched her sister Margot go through these growing pains. Now Lara Jean's the one who'll be graduating high school and leaving for college and leaving her family—and possibly the boy she loves—behind.
This was such a beautiful and heartwarming end to my favourite contemporary series. There was drama, romance, family, weddings, fights, graduating and so much more going on in this books, and Jenny once again took me on an emotional roller coaster. I just finished reading this less than an hour ago and I already miss the characters and their story (especially Peter who is my number 1 book boyfriend!). If you haven't read this series and love contemporary, than I HIGHLY recommend you do!
5 Stars
Comment below how many books you read in May and what your favourite was. I read so many amazing books this month and it's hard to pick, but I would have to say my favourite is Lara Jean!!!