So June was a really good reading month for me – the best so far this year! I managed to read a book every two days which ended the month on 15 books. 6 of these books were sent to me for review, 4 were rereads and 5 were books that have been on my TBR for a while.
Here's what I read this month;
The Whole Thing Together - Ann Brashares
Summer for Sasha and Ray means the sprawling old house on Long Island. Since they were children, they've shared almost everything—reading the same books, running down the same sandy footpaths to the beach, eating peaches from the same market, laughing around the same sun-soaked dining table. Even sleeping in the same bed, on the very same worn cotton sheets. But they've never met.
Sasha's dad was once married to Ray's mom, and together they had three daughters: Emma, the perfectionist; Mattie, the beauty; and Quinn, the favorite. But the marriage crumbled and the bitterness lingered. Now there are two new families—and neither one will give up the beach house that holds the memories, happy and sad, of summers past.
The synopsis to this book sounded interesting, but when I read it, it didn't really do anything for me. It was confusing and there were too many characters. More thoughts in my review.
3 Stars
Review:
Geekerella - Ashley Poston
When geek girl Elle Wittimer sees a cosplay contest sponsored by the producers of Starfield, she has to enter. First prize is an invitation to the ExcelsiCon Cosplay Ball and a meet-and-greet with the actor slated to play Federation Prince Carmindor in the reboot. Elle's been scraping together tips from her gig at the Magic Pumpkin food truck behind her stepmother's back, and winning this contest could be her ticket out once and for all—not to mention a fangirl's dream come true.
Teen actor Darien Freeman is less than thrilled about this year's ExcelsiCon. He used to live for conventions, but now they're nothing but jaw-aching photo sessions and awkward meet-and-greets. Playing Federation Prince Carmindor is all he's ever wanted, but the diehard Starfield fandom has already dismissed him as just another heartthrob. As ExcelsiCon draws near, closet nerd Darien feels more and more like a fake—until he meets a girl who shows him otherwise
This was such an adorable and fun and fluffy read. Cinderella is my favourite Disney fairy tale of all time, and it was a lot of fun to read this modern and geeky retelling. More thoughts in my review.
4 Stars
Review:
Once and for All - Sarah Dessen
Louna, daughter of famed wedding planner Natalie Barrett, has seen every sort of wedding: on the beach, at historic mansions, in fancy hotels and clubs. Perhaps that's why she's cynical about happily-ever-after endings, especially since her own first love ended tragically. When Louna meets charming, happy-go-lucky serial dater Ambrose, she holds him at arm's length. But Ambrose isn't about to be discouraged, now that he's met the one girl he really wants.
This is the first Dessen book I read, and I enjoyed it. It was a cute contemporary book about love and weddings and loss. More thoughts in my review.
3.5 Stars
Review: June 2
Juniper Lemon's Happiness Index - Julie Israel
It's been sixty-five painful days since the death of Juniper's big sister, Camilla. On her first day back at school, bracing herself for the stares and whispers, Juniper borrows Camie's handbag for luck – and discovers an unsent break-up letter inside. It's mysteriously addressed to 'You' and dated July 4th – the day of Camie's accident. Desperate to learn the identity of Camie's secret love, Juniper starts to investigate.
But then she loses something herself. A card from her daily ritual, The Happiness Index: little notecards on which she rates the day. The Index has been holding Juniper together since Camie's death – but without this card, there's a hole. And this particular card contains Juniper's own secret: a memory that she can't let anyone else find out.
This is one of the best books I've read all year! I loved everything about it and it made me feel so many emotions. It's a book about loss, grief, love, friendships and so much more. More thoughts in my review.
5 (million) Stars
Review: June 11
Stargazing for Beginners - Jenny McLachlan
Science geek Meg is left to look after her little sister for ten days after her free-spirited mum leaves suddenly to follow up yet another of her Big Important Causes. But while Meg may understand how the universe was formed, baby Elsa is a complete mystery to her. And Mum's disappearance has come at the worst time: Meg is desperate to win a competition to get the chance to visit NASA headquarters, but to do this she has to beat close rival Ed. Can Meg pull off this double life of caring for Elsa and following her own dreams? She'll need a miracle of cosmic proportions …
Another really good read this month that covered so many touching and important story lines. I laughed, I cried, and I fell in love with the characters and story. More thoughts in my review.
4.5-5 Stars (I'm undecided)
Review: June 14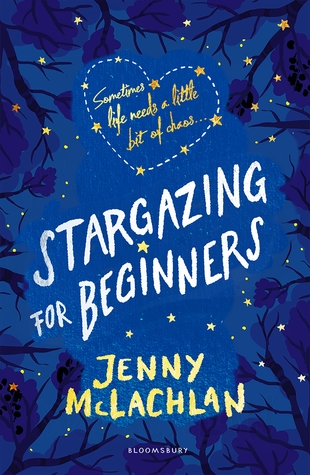 Wreck - Fleur Ferris
Tamara Bennett is going to be the first journalist to strictly report only good news. Finished with high school, Tamara is ready to say goodbye to her sleepy little town and part-time job at the local paper. O-weeks awaits, which means parties, cute boys and settling into student res with her best friend Relle. Things take an unexpected turn, however, when she arrives home to find her house ransacked and her life in danger. What is this mysterious note? And why does it mean so much to one of Australia's most powerful media moguls? Caught between a bitter rivalry and dangerous family secret, who can Tamara trust? Or should she trust herself?
I really enjoyed this book. I haven't read one of Fleur's books before, but the suspense and thrill from 'Wreck' has really made me want to soon. However, it still lacked a little something for me. I also got to do a Q & A with Fleur which you can check out below. More thoughts in my review.
3.5 Stars
Q&A:
Review: June 18
Frankie - Shivaun Plozza
Frankie Vega is angry. Just ask the guy whose nose she broke. Or the cop investigating the burglary she witnessed, or her cheating ex-boyfriend or her aunt who's tired of giving second chances…When a kid shows up claiming to be Frankie's half brother, it opens the door to a past she doesn't want to remember. And when that kid goes missing, the only person willing to help is a boy with stupidly blue eyes … and secrets of his own. Frankie's search for the truth might change her life, or cost her everything.
I got to meet Shivaun at Reading Matters earlier in the month and she had so many great things to say about reading and YA. I was really looking forward to this story, and even though there were a few things that I liked and enjoyed, it wasn't as good as I thought it was going to be.
3.5 Stars
Still Life With Tornado - A.S. King
Actually Sarah is several human beings. At once. And only one of them is sixteen. Her parents insist she's a gifted artist with a bright future, but now she can't draw a thing, not even her own hand. Meanwhile, there's a ten-year-old Sarah with a filthy mouth, a bad sunburn, and a clear memory of the family vacation in Mexico that ruined everything. She's a ray of sunshine compared to twenty-three-year-old Sarah, who has snazzy highlights and a bad attitude. And then there's forty-year-old Sarah (makes good queso dip, doesn't wear a bra, really wants sixteen-year-old Sarah to tell the truth about her art teacher). They're all wandering Philadelphia—along with a homeless artist allegedly named Earl—and they're all worried about Sarah's future.
This was such an intense, touching, emotional and thought provoking story. There were so many aspects of this book that I loved, found intriguing and it really made me think about so many things in my life and the world in general. Such a great read, and if you like abstract and different books, then I highly recommend.
4.5 Stars
Harry Potter and the Philosopher's Stone - J.K. Rowling
Harry Potter thinks he is an ordinary boy – until he is rescued by an owl, taken to Hogwarts School of Witchcraft and Wizardry, learns to play Quidditch and does battle in a deadly duel. The Reason … HARRY POTTER IS A WIZARD!
This was a reread for me. I just randomly felt like delving into this world again (even though I only read it for the first time a year and a half ago) but I cranked it out on one Sunday.
4.5 Stars
Clockwork Angel
Clockwork Prince
Clockwork Princess - Cassandra Clare 
The year is 1878. Tessa Gray descends into London's dark supernatural underworld in search of her missing brother. She soon discovers that her only allies are the demon-slaying Shadowhunters—including Will and Jem, the mysterious boys she is attracted to. Soon they find themselves up against the Pandemonium Club, a secret organization of vampires, demons, warlocks, and humans. Equipped with a magical army of unstoppable clockwork creatures, the Club is out to rule the British Empire, and only Tessa and her allies can stop them…
I was finally in the mood to start this series. I read The Mortal Instruments last year and liked them, however, I haven't been in a fantasy mood all year so I didn't want to force myself to read them just for the sake of it. But I'm so glad that I finally picked them up throughout the month because… I LOVED THEM! And that ending!!!!! I actually think I prefer TID to TMI. Also, I'm Team Will 🙂
4.5 Stars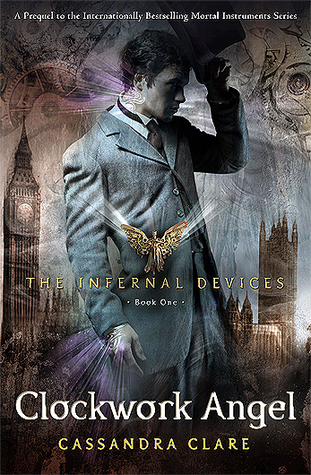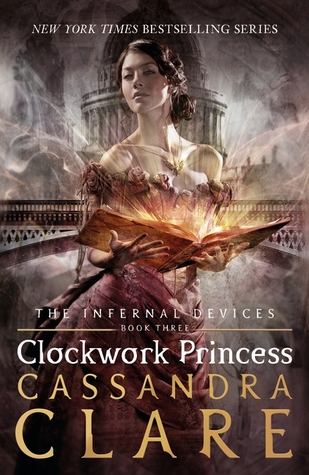 To all the Boys I've Loved Before
PS I Still Love You - Jenny Han
Sixteen-year-old Lara Jean Song keeps her love letters in a hatbox her mother gave her. They aren't love letters that anyone else wrote for her; these are ones she's written. One for every boy she's ever loved—five in all. When she writes, she pours out her heart and soul and says all the things she would never say in real life, because her letters are for her eyes only. Until the day her secret letters are mailed, and suddenly, Lara Jean's love life goes from imaginary to out of control.
After I read Always and Forever, Lara Jean last month, it reminded me how much I love these books and characters (especially Peter). So I read both of them inbetween reading The Infernal Devices to break up the series and I loved them just as much the second time around. I tagged my favourite scenes and cutesy Peter moments and it ended up being half the book!
5 (million) Stars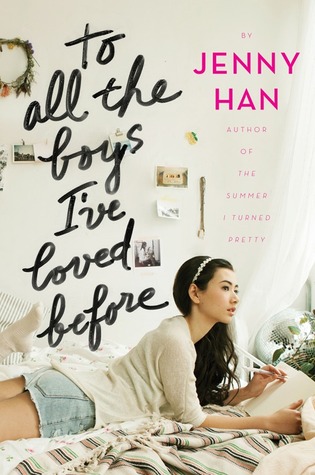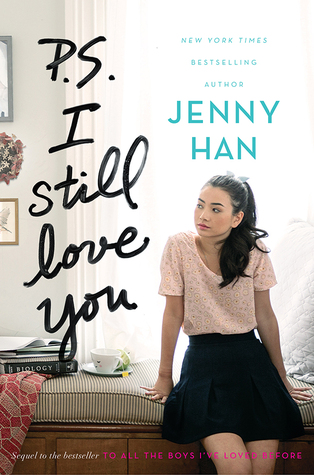 All the Bright Places - Jennifer Niven
Theodore Finch is fascinated by death, and he constantly thinks of ways he might kill himself. But each time, something good, no matter how small, stops him. Violet Markey lives for the future, counting the days until graduation, when she can escape her Indiana town and her aching grief in the wake of her sister's recent death. When Finch and Violet meet on the ledge of the bell tower at school, it's unclear who saves whom. And when they pair up on a project to discover the "natural wonders" of their state, both Finch and Violet make more important discoveries: It's only with Violet that Finch can be himself—a weird, funny, live-out-loud guy who's not such a freak after all. And it's only with Finch that Violet can forget to count away the days and start living them. But as Violet's world grows, Finch's begins to shrink.
I was lucky enough to meet Jennifer Niven last month which put me in the mood to reread this book. I read it for the first time when it was first released, and the story was just as touching the second time around.
4.5 Stars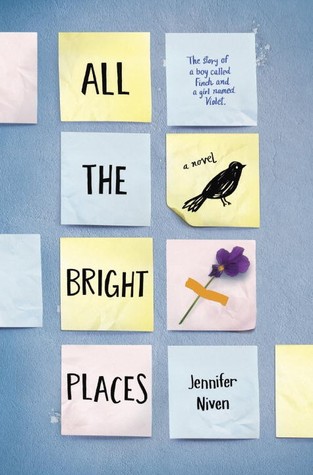 Comment below what your favourite book that you read in June was. I would have to say that my favourite was Juniper Lemon's Happiness Index – and it's definitely going to be in my favourites list for 2017!