Frankie - Shivaun Plozza
Frankie Vega is angry. Just ask the guy whose nose she broke. Or the cop investigating the burglary she witnessed, or her cheating ex-boyfriend or her aunt who's tired of giving second chances…When a kid shows up claiming to be Frankie's half brother, it opens the door to a past she doesn't want to remember. And when that kid goes missing, the only person willing to help is a boy with stupidly blue eyes … and secrets of his own. Frankie's search for the truth might change her life, or cost her everything.
Still Life With Tornado - A.S. King
Actually Sarah is several human beings. At once. And only one of them is sixteen. Her parents insist she's a gifted artist with a bright future, but now she can't draw a thing, not even her own hand. Meanwhile, there's a ten-year-old Sarah with a filthy mouth, a bad sunburn, and a clear memory of the family vacation in Mexico that ruined everything. She's a ray of sunshine compared to twenty-three-year-old Sarah, who has snazzy highlights and a bad attitude. And then there's forty-year-old Sarah (makes good queso dip, doesn't wear a bra, really wants sixteen-year-old Sarah to tell the truth about her art teacher). They're all wandering Philadelphia—along with a homeless artist allegedly named Earl—and they're all worried about Sarah's future.
Harry Potter - J.K. Rowling (20 year Hufflepuff ed.)
Harry Potter's life is miserable. His parents are dead and he's stuck with his heartless relatives, who force him to live in a tiny closet under the stairs. But his fortune changes when he receives a letter that tells him the truth about himself: he's a wizard. A mysterious visitor rescues him from his relatives and takes him to his new home, Hogwarts School of Witchcraft and Wizardry.
After a lifetime of bottling up his magical powers, Harry finally feels like a normal kid. But even within the Wizarding community, he is special. He is the boy who lived: the only person to have ever survived a killing curse inflicted by the evil Lord Voldemort, who launched a brutal takeover of the Wizarding world, only to vanish after failing to kill Harry.
* My Lovely Frankie - Judith Clarke
In the 1950s, 'entering' the seminary was for ever, and young boys were gathered into the priesthood before they were old enough to know what they would lose. Tom went to St Finbar's because he was looking for something more than the ordinary happiness of his home and school.
But then he discovered that being able to love another person was the most important thing of all. For Tom, loving Frankie made him part of the world. Even when Frankie was gone…
* One Italian Summer - Keris Stainton
It's been a year since Milly, Elyse and Leonie's dad died, and a year since their last trip to Rome. Summer's here again, and once again they are heading with their mum to Italy – but what's it going to be like going without Dad? Rome still holds its familiar charms – the sun is still as warm, the gelato as delicious, the people as welcoming. But nothing is quite as it once was …
With grief still raw for all of them, Milly is facing the additional awfulness of having to see Luke again – gorgeous, gorgeous Luke, who she had a fling with last year, and who she made a total fool of herself with – or so she thinks. What's going to happen this time? What's more, things between Milly, her sisters and their mum are rocky – Leonie is being tempestuous and unpredictable, Elyse is caught up with her new boyfriend, and Milly feels like she just doesn't know how she fits in any more.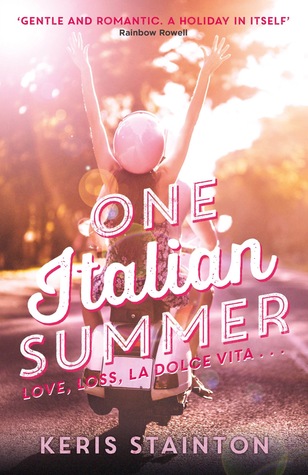 * The Dream Walker - Victoria Carless
Sixteen-year-old Lucy Hart has been counting the days till she can get the hell out of Digger's Landing – a small Queensland fishing hamlet home to fifteen families, a posse of mongrel dogs, and Parkers Corner Store (no apostrophe and nowhere near a corner).
But just like the tides Lucy's luck is on the turn, and as graduation nears her escape plans begin to falter; her best friend, Polly, is dropping out of school to help pay the bills, and Tom has been shipped off to boarding school, away from the flotsam of this place. And then there's Lucy's nightlife, which is filled with dreams that just don't seem to belong to her at all…
* Finding Nevo - Nevo Zisin
Meet Nevo: girl, boy, he, she, him, her, they, them, daughter, son, teacher, student, friend, gay, bi, lesbian, trans, homo, Jew, dyke, masculine, feminine, androgynous, queer. Nevo was not born in the wrong body. Nevo just wants everyone to catch up with all that Nevo is. Personal, political and passionate, Finding Nevo is an autobiography about gender and everything that comes with it.
* Release - Patrick Ness
Adam Thorn is having what will turn out to be the most unsettling, difficult day of his life, with relationships fracturing, a harrowing incident at work, and a showdown between this gay teen and his preacher father that changes everything. It's a day of confrontation, running, sex, love, heartbreak, and maybe, just maybe, hope. He won't come out of it unchanged. And all the while, lurking at the edges of the story, something extraordinary and unsettling is on a collision course
* Midnight Jewel - Richelle Mead
Both a school and a business venture, the Glittering Court is designed to transform impoverished girls into upper-class ladies who appear destined for powerful and wealthy marriages in the New World. There, Mira finds herself subjected to persecution, not only from her fellow Glittering Court jewels, but from her suitors, as well—men she would potentially be expected to give her life to.
By day, she goes through the motions, learning the etiquette and customs that will help to earn her anonymity, even making a couple true friends in the process, the forthright ladies' maid Adelaide and the ambitious laundress Tamsin. But by night, Mira hatches a different plan entirely—one that, if exposed, could get her hanged in the highest court of Adoria.
* Exchange of Heart - Darren Groth
Since the sudden death of his younger sister, Munro Maddux has been stuck. Flashbacks. Anger. Chest pains. And a voice – taunting, barking, biting – that his counsellor calls 'the Coyote'. Munro knows a student exchange will not be the stuff of Disney movies. But in Australia he intends to move beyond his troubled past.
Forced by his new school to join a volunteer program, Munro discovers the Coyote is silenced in one place: Fair Go, an assisted living residence in Brisbane's west, where Munro gets to know his team of residents: dogged designer Bernie; sleeping refugee Shah; would-be wedded couple Blake and Dale; comic creator Iggy; and self-defence tutor Florence. As this unlikely group shows Munro the sights, Munro's notion of what it means to be a big brother begins to change.
* Deeper than the Sea - Nelika McDonald
Beth had known there were secrets folded inside Theo. But she didn't know they were secrets about her.
It's always been just Beth and her mother Theo. Until Beth is sixteen years old, and a stranger arrives in their small coastal town – a stranger with a claim that rips apart all Beth knows. And what do you do when everything you thought you knew about yourself is based on a lie
* When It's Real - Erin Watt
Meet Oakley Ford-teen celebrity, renowned pop star, child of famous movie stars, hottie with millions of fangirls… and restless troublemaker. On the surface he has it all, but with his home life disintegrating, his music well suddenly running dry, and the tabloids having a field day over his outrageous exploits, Oakley's team decides it's time for an intervention. The result: an image overhaul, complete with a fake girlfriend meant to show the world he's settled down.
Enter seventeen-year-old Vaughn Bennett-devoted sister, part-time waitress, the definition of "normal." Under ordinary circumstances she'd never have taken this gig, but with her family strapped for cash, she doesn't have much of a choice. And for the money Oakley's team is paying her, she figures she can put up with outlandish Hollywood parties and a team of publicists watching her every move. So what if she thinks Oakley's a shallow, self-centered jerk? It's not like they're going to fall for each other in real life…right?
* If There's No Tomorrow - Jennifer L. Armentrout
Lena Wise is always looking forward to tomorrow, especially at the start of her senior year. She's ready to pack in as much friend time as possible, to finish college applications and to maybe let her childhood best friend, Sebastian, know how she really feels about him. For Lena, the upcoming year is going to be one of opportunities and chances. Until one choice, one moment, destroys everything. Now Lena isn't looking forward to tomorrow. Not when friend time may never be the same. Not when college applications feel all but impossible. Not when Sebastian could never forgive her for what happened.
When Dimple Met Rishi - Sandhya Menon
Dimple Shah has it all figured out. With graduation behind her, she's more than ready for a break from her family, from Mamma's inexplicable obsession with her finding the "Ideal Indian Husband." Ugh. Dimple knows they must respect her principles on some level, though. If they truly believed she needed a husband right now, they wouldn't have paid for her to attend a summer program for aspiring web developers…right?
Rishi Patel is a hopeless romantic. So when his parents tell him that his future wife will be attending the same summer program as him—wherein he'll have to woo her—he's totally on board. Because as silly as it sounds to most people in his life, Rishi wants to be arranged, believes in the power of tradition, stability, and being a part of something much bigger than himself.
The Shahs and Patels didn't mean to start turning the wheels on this "suggested arrangement" so early in their children's lives, but when they noticed them both gravitate toward the same summer program, they figured, Why not?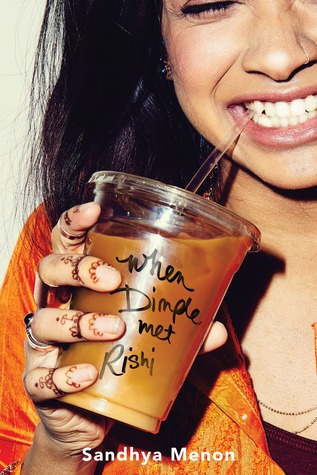 History is All You Left Me - Adam Silvera
OCD-afflicted seventeen-year-old, Griffin, has just lost his first love – his best friend, ex-boyfriend and the boy he believed to be his ultimate life partner – in a drowning accident. In a desperate attempt to hold onto every last piece of the past, a broken Griffin forges a friendship with Theo's new college boyfriend, Jackson. And Griffin will stop at nothing to learn every detail of Theo's new college life, and ultimate death. But as the grieving pair grows closer, readers will question Griffin's own version of the truth – both in terms of what he's willing to hide, and what true love ultimately means…
The Build-Up Season - Megan Jacobson
Seventeen-year-old Iliad Piper – Ily for short – is named after war and angry at the world. Growing up with a violent father and abused mother, she doesn't know how to do relationships, family or friends. Her love-hate friendship with Max turns into a prank war and she nearly destroys her first true friendship with misfit Mia. She takes off her armour for nobody, until she meets Jared, a local actor and someone who's as complicated as she is.