July last year was the first time I participated in the biannual bibliothon. And since it's winter here in Australia and I'm still on uni holidays, it means that once again I have plenty of time to read. Today, I've come up with a rough TBR for the readathon next week but I'm not sure if I'll end up following it exactly. I've come up with one book for each challenge, but a lot of the books cover more than one challenge so if I don't have time to read all the books, I should still be able to complete all the challenges
Group book challenge
Flame in the Mist – Renee Adieh
I actually won't be completing this challenge. I don't own the book, I don't want to buy another book because I have so many on my TBR as it is, and I don't really have any interest in reading it either.
Read from the hosts favourite genre
Emma: Diverse books
My Lovely Frankie – Judith Clarke
I was sent this book for review and I really can't wait to read it. What I can understand from the synopsis, the main character is religious and from the LGBT community. It's also an Australian YA book which I do not read enough of.
Read a book that has been or still is banned
The Diary of a Young Girl – Ann Frank
I bought this at the beginning of the year but I haven't had the time to get around to it yet. I've seen the movie and I'm really interested in reading it, so hopefully I'll have time over the week.
Throwback challenge
Genre you've read the least this year
Finding Nevo – Nevo Zisin
I don't think I've read any autobiography's or memoirs this year but I actually really do love to read them. I requested this one for review because I knew it was something I really wanted to read. I can't wait to learn more about Nevos' story.
Book to movie adaptation
The Wrong Girl – Zoe Blake Foster
This is actually a book to TV show adaptation. I know the prompt says to read and watch it, but I actually didn't watch the episodes that long ago so I'm not going to watch them again. But I bought the book at the beginning of the year and haven't had time to read it yet, so hopefully it's as good as the show.
Read a book you've seen somewhere other than booktube
One Italian Summer – Keris Stainton
I have a lot of review books on my TBR that could fall under this category, but this one seems a bit on the shorter and lighter side. It was sent to me for review, and I haven't seen it anywhere on booktube or in the online book community.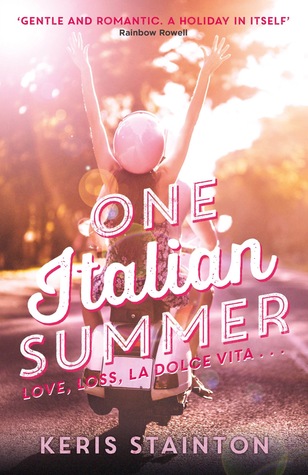 LGBTQIA+
History is All You Left Me – Adam Silvera
I cannot wait to pick this one up. I only bought it the other day but I've been wanting to read one of Adam's books for so long. From what I understand, the main character is gay, and I've heard nothing but good things about this book.
Comment below if you're participating in the Biannual Bibliothon and let me know what books you're reading during the week!